Sheelagh O'Connor Deri
Meet Sheelagh – Yogi – Studio Owner – Mother, Wife and Champagne lover – Sheelagh will be teaching at our Morocco Retreat (March 2020). All details about the week can be found here
Brought up in the North of England and of Irish descent, Sheelagh's first introduction to yoga was with her mama in the 1970's. Her mother would go to a hatha yoga class once a week – the black leotard, tights and legwarmer days – come home and share it with Sheelagh.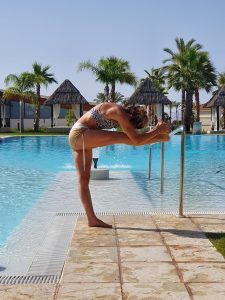 Although always sporty, over the years yoga was forgotten about.
Sheelagh moved to Luxembourg in 1995, worked in finance for many years, married and had 3 children and the stress began to take over. The work environment was becoming toxic, her husband was diagnosed with a chronic disease, and panic attacks, breakdown ensued. In 2012 she discovered Bikram Yoga. Life changing.
She went to the Teacher Training in Fall 2013 and the world opened up. A new family to add to her own, and suddenly realizing her true identity as a people person, a talker and a doer to encourage others to become the best version of themselves.
In 2014 she opened her studio in Luxembourg, Bikram Yoga Hot Box. It is a hub of warmth and community where people of all ages and backgrounds come together to sweat and socialize.
To date Sheelagh has taught more than 3000 classes.
She has kept close to the source, going to Thailand for a week long Advanced seminar in 2014; Spain for a week long Beginners seminar in 2015; a week long Teach from Love seminar in Massachusetts with Teri Almquist – which helps teachers advance their understanding of teaching and dialogue use – in 2016.
As well as Bikram yoga Sheelagh teaches Yin and enjoys meditation and Sound Bath sessions, using a Singing bowl to help de-stres
What Sheelagh enjoys most about teaching:
As a teacher I love to see students grow with their practice – mind and body – to help people improve their outlook on life, or their bad knee or hip is the best feeling in the world.
People come into my studio for all different reasons. Some say they want basic fitness (they always get so much more), some want to learn how to deal with stress or trauma (and they then find that by moving their body they feel even better too). They all find a safe place, a therapeutic systematic sequence, and a realisation that they are not alone in the world or in their struggle in the hot room, and they feel better. Being a studio owner, watching a community grow is the best reward.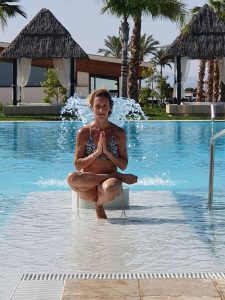 As a practitioner, this sequence keeps me grounded – every class is different, each time is a challenge. After 9 years I still have to listen to my body and sit down when I need to. Other times I feel so powerful I could conquer the world. And of course, what we do in the room is only a practice. This yoga has made me a better person, more compassionate. My family has a better life because I do this. I look after myself and that puts me in a position to look after them better.
I couldn't imagine life without it, and it has taught me to appreciate my life, to become the best version of myself.
Teaching and practising go hand in hand, I couldn't choose which I prefer doing, but I do think I have to be an outstanding (ie, committed, focused, consistent) student in order to be a good teacher, to practise what I preach and to understand that people find it hard to even look in the mirror sometimes…so I teach from love, from compassion and from my own experiences.
Sheelagh will be teaching at our Morocco Retreat 21st – 28th March 2020 – you can find all details here