Veganlicious Apple Pie
This is the first vegan cake I tried and I loved how straight forward it was. Best bit for me was to use home-grown apples from my parent's garden. Lucky me! But hope you'll enjoy this delicious appley goodness!
Ingredients:
60g margarine
140g raw cane sugar
1 pinch of salt
2 sachets of vanilla sugar
260g flour – preferably spelt flour
3 tea spoons of baking soda
1 tea spoon of lemon zest
200ml of soy milk
4 apples
Optional: apricot jam
Preparation:
Beat the margarine, sugar, salt and vanilla sugar until fluffy, then add in, in turns, the flour with the baking soda mixed in and the soy milk.
Add the lemon zest.
Grease a round baking dish (28cm diameter) and pour in the mixture.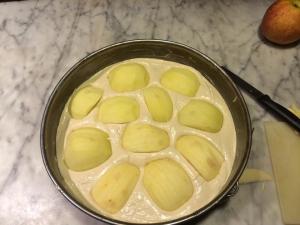 Peel the apples, halve and de-seed them.
Then, with a knife slice a few lines lengthwise on the outside of each apple half.
Finally push the halves into the dough. (Alternatively you can cut the apples into smaller slices).
Bake the cake at 170C for 50-55 minutes.
Check with a wooden skewer/tooth pick whether the cake's ready – if no dough sticks to the tooth pick it's ready!
Optional: You can coat the finished cake with some apricot jam for an extra sweet finish.