Yoga, Surf & SUP Retreat with Rawfood Workshop – Bocas January 2016
Bocas del Toro, Panama
Sat. 23rd Jan– Sat. 30th Jan 2016 – with Jenilyn Braegger
THIS RETREAT IS FOR RETURNING GUESTS OF HOT BIKRAM RETREATS AND THEIR FRIENDS/ FAMILY ONLY !
Yeah!!!! This is the one you have been waiting for!  Come with us to Paradise! I know already most of you who are joining but thought we write up all details out here. So excited to be going back to Bocas on a week of Yoga, Surf, SUP and much more with returning guests of HBR only. If you have a friend / family member who would like to join this Retreat as well let us know as soon as you can and we will try to best accommodate them. Please note, because accommodation is limited and I know there won't be any spots left  there is only shared accommodation available. If you absolutely want to stay in single accommodation, please send me a private message and we see what we can do otherwise we will buddy you up with a (former ) room mate  🙂
Add on Panama City Party / Dinner night under the stars: 
Because all of you are travelling internationally to get to Panama and most coming here on the Friday already, we will put together a small getaway plan for the Friday to Saturday night. We will meet early evening (around 5/6pm ) at one of the most stylish bars for sunset cocktails with amazing views to the City in the old town of Panama followed by a dinner at an amazing Restaurant and some party (before we head up to the Caribbean the next day to detox for the week — for sure ! 🙂
I suggest you stay at the Hyatt Place in Panama City for the night (rooms around 100-120 USD and you can share as well) which also included amazing breakfast and is right in the center. All the above is up to you to join and at own cost, you can of course also choose any other hotel, I will send out details about the evening/ where to meet etc. Dinner, Drinks venue details to all anyways. If you can't make it for this, it's no problem, we will see you in Bocas the next day 🙂
Introduction about Bocas: 
It's no surprise to us that Bocas del Toro has been named THE top place to visit by the Times Magazine and Condé Nast, take a look for yourself. Our Hotel Tierra Verde is located on the gorgeous Carenero island, just a short 3 minute boat ride from 
the main island Isla Colon with its airport, shops, restaurants and night life. There are no cars on Carenero island or paved roads. Access to the Hotel is directly via its own pier and only via boat which guarantees quietness and privacy.
We first discovered Bocas del Toro 14 years ago backpacking through Central America and were just fascinated by its location, beaches, food, people and relaxed lifestyle. There is so much to Bocas words can't even explain. You have to see for yourself. And for 14 years …not much has changed in Bocas. It's still the same beautiful place, no highrise buildings or crowded beaches, and we and our previous guests just love it that way.
Enjoy daily Yoga classes  in our beautiful studio overlooking the ocean as well as surfing classes right outside your hotel with certified instructurs. Come on a day trip to discover the beautiful islands of Bocas, watch dolphins, snorkel or just enjoy local Caribbean food. Our own private chef will prepare delicious dishes comprising a combination of (mainly) locally sourced ingredients including fish, meat, raw and vegan options.
Optional activities include: Sunset cruise, horseback riding on the beach, SUP boarding, diving, painting workshop or chocolate making workshops, cave tours and botanical gardens tour, additional private surf classes
We  look forward to welcoming again people from all around the world in beautiful Bocas.
What's included
7 nights accommodation in either single or double (shared) occupancy at Hotel Tierra Verde on Carenero Island set right on the water (all rooms are equipped with private bathroom, Aircon, TV and Wifi) – single accommodation is limited!
7 * Brunch prepared by our own Chef
3 * Dinner prepared by our own Chef
Daily fresh juices and smoothies
Daily Yoga classes, posture clinics and & or fitness / bootcamp classes in a Yoga studio overlooking the ocean
3 * Surf Classes including surf board rental, guided instruction, boat transfers to the surf spot and rash guard / for experienced surfers you will be taken to more advanced surf breaks
1 SUP / stand up paddle board / CLASS, try this amazing experience on the water, optional classes can be attended afterwards
If you dont want to surf, there will be Bootcamp, Fitness, Yoga classes added !
Day trip to Dolphin Bay, Red Frog Beach and Zapatilla islands – snorkel, swim, relax and discover the stunning islands of Bocas del Toro
Cocktail sunset night!
Enough time to relax…. and lots of fun… guaranteed!
Example of a day at the retreat:
| | |
| --- | --- |
| 8.30am | Morning Tea/Coffee |
| 9.00am  – 11.00am | Surf Class OR Fitness class |
| 11.00am – 12.00pm | Brunch |
| 3.30pm – 4.30pm |  Posture Clinic & Workshop |
| 4.30pm – 6.00pm | Yoga Class |
| 6.00pm – 7.00pm | Free time |
| 7.00pm – 9.00pm | Dinner |
Prices:
$ 1395 – USD for double/shared occupancy  (either 2 people in room sharing or queen size bed for couple)
(the price includes the 10% discount given to returning guests)
If you book a shared room by yourself we will match you with another guest of the same gender and age range!
 On the days where dinner is not included we will take you to some awesome Restaurants, where you can join if you wish! Prices are on average 10-15 USD per person.
 All of our Retreats are open to ALL levels – whether you are new to Yoga – and please note, you don't have to take part in all the Yoga classes – it's all up to you. Do as much or as little as you like! It's YOUR holiday!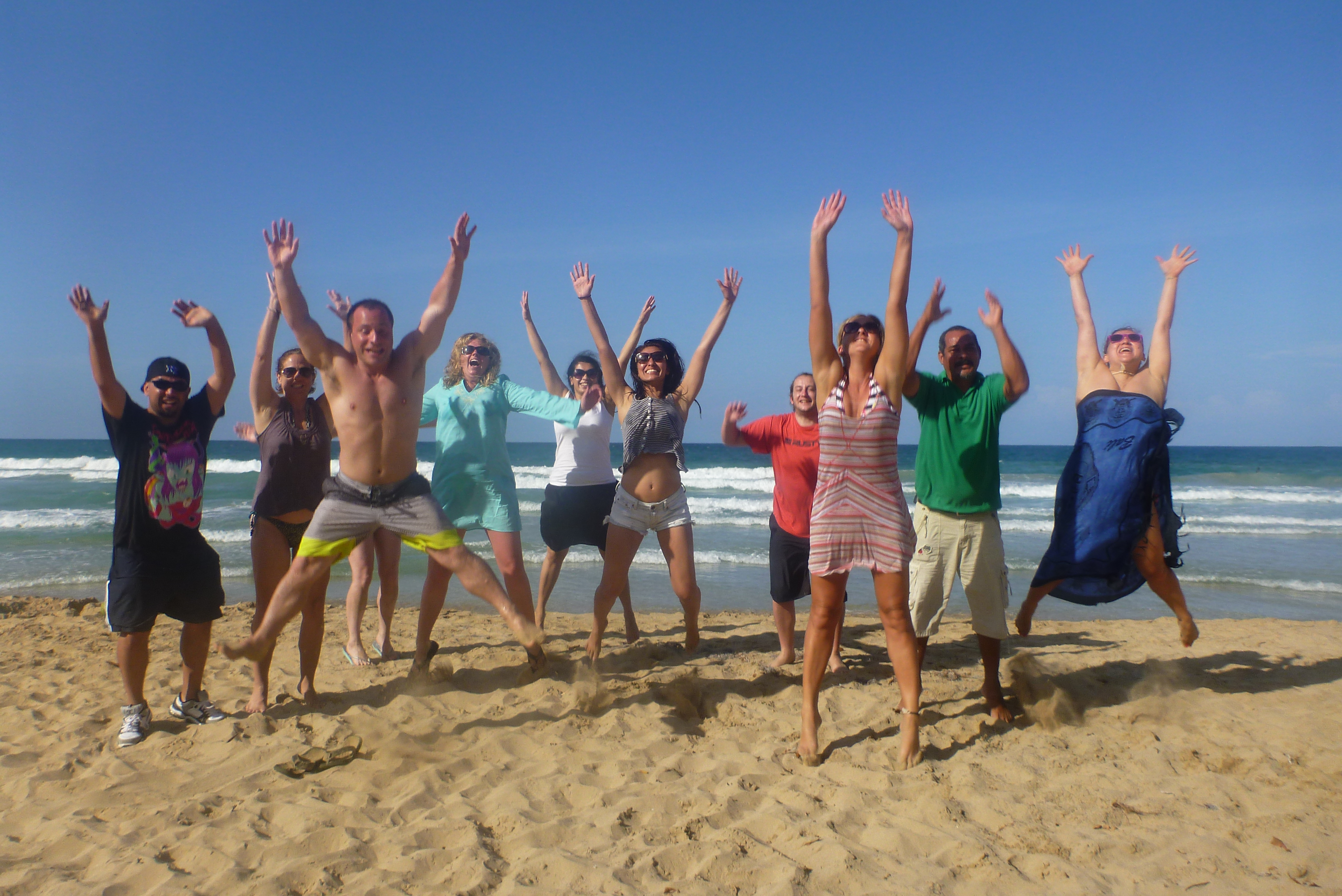 How to get there:
Bocas del Toro is easy to reach by plane, bus and/or boat. The fastest way is by plane, which takes about 1 hour each way from Panama City or San Jose (Costa Rica). There are between 6-8 flights a day from Panama City to Bocas. Flights leave from Albrook airpot which is 30 – 40 minutes from the international airport. Please check www.airpanama.com.
If you are arriving from Costa Rica please check www.natureair.com for flights. We are also happy to book flights for you. No problem! If you plan to travel by bus/boat please note that the trip varies in time and takes anywhere between 7-10 hours. We can arrange that for you as well. Please contact us!
Also please be aware that airpanama only always updates their system with flights around 3 months before the actual flight. So If you are checking the website in September you are very unlikely to find flights for January. We will inform you when the flights become available, not to worry there are plenty.
Please note:
International/national flights to Bocas del Toro are NOT included in the price
Check-in on the first day of the retreat is from 2pm and check-out on the final day by 1pm. The hotel will do its  best to accommodate earlier arrivals/late departures where possible. Should your room not be ready yet you can always leave your luggage with the hotel and relax in a hammock or explore the island. The hotel is a short 10 minute trip from the airport, we will send you instructions on how to get there.
Travel insurance is not included but we highly recommend you get it
An initial USD $1000 deposit is required to secure your place at our retreat
The remaining amount is due no later than 60 days prior to the retreat start date
Cancellation Policy:
Any cancellation will require an administrative fee of $150 USD
Up to 120 days prior to the retreat start date – the full amount paid will be refunded
Up to 70 days prior to the retreat start date – 50% of the full amount paid will be refunded
Up to 45 days prior to the retreat start date – 25% of the full amount paid will be refunded
After 45 days prior to the retreat start date – no refund applies
Refunds will be reimbursed within 30 days of the cancellation
Are you ready to…

For any additional questions please email us directly at
contact@hotbikramretreats.com