Luxury Hot Yoga Retreat – Mexico – May 2018
Bikram Yoga Retreat with Jenilyn Braegger-Hernández
Puerto Vallarta, Mexico
Saturday May 19th – Saturday May 26th 2018
In May 2018, come join us amigo for a Bikram Yoga Retreat of a lifetime at the famous Xinalani Retreat Centre next to Puerto Vallarta, Mexico. We held our first Retreat at Xinalani back in 2013 and are super excited to be again welcoming another group of yogis from all over the world. This will be the 40th Retreat of Free Spirit Yoga Retreats since its launch in 2012, so get excited for a bit of a celebration as well!
Surrounded by beautiful beaches, lush jungles and sparkling waterfalls, Xinalani is the perfect getaway for a Bikram Yoga retreat with May's warm weather making it the ideal place to relax and recharge.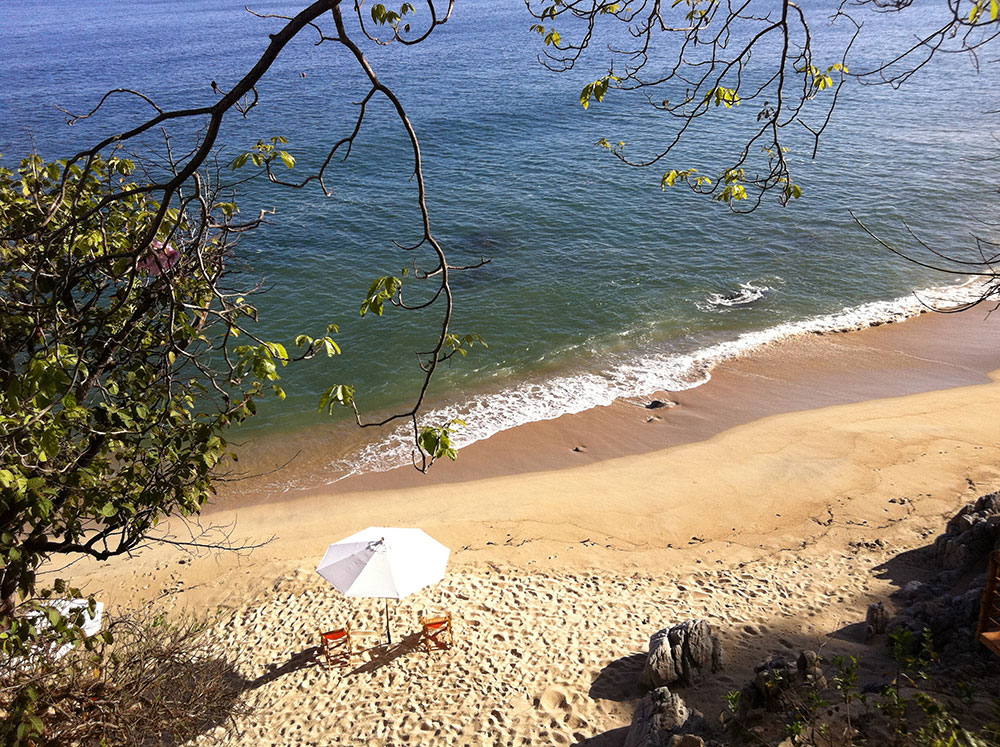 Our private beach for the week
Come join us and fully immerse yourself in your yoga practice with classes in Bikram Yoga (in a heated studio overlooking the jungle), Meditation classes, Posture Clinics, Workshops, massages, guided walks and tours to stunning waterfalls, cooking classes & and so much more. Take a dip in the crystal clear waters of the ocean or swim a few laps in the stunning newly built swimming pool, the choice is yours.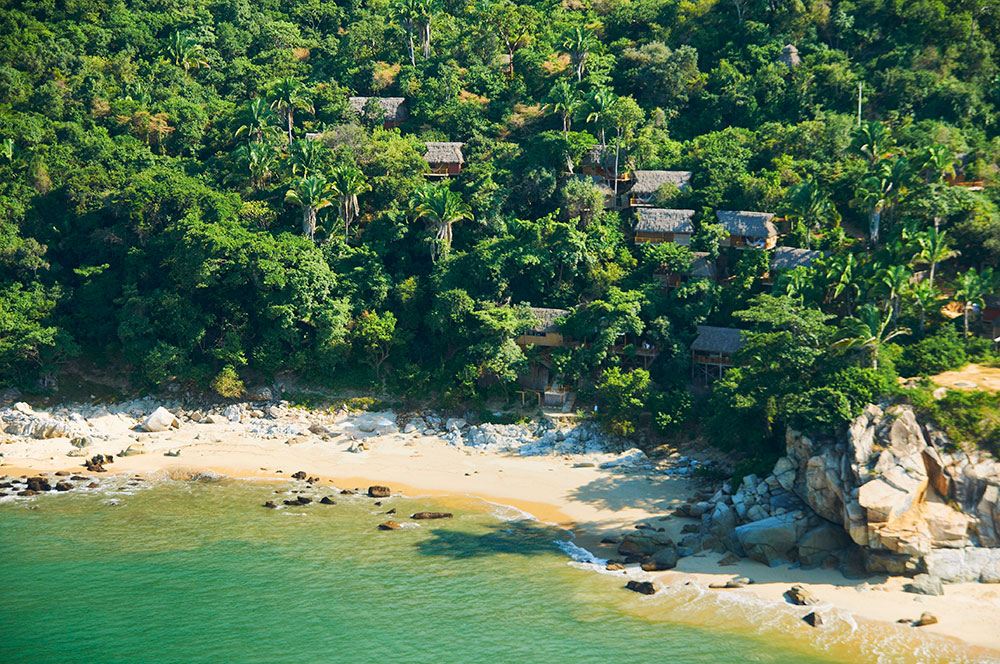 Xinalani Retreat Centre as seen from the air with our private beach (accessible by boat only!)
The Location:
Xinalani Retreat center is set on a wide pristine private beach surrounded by a jungle of breathtaking natural beauty. Xinalani is a one-of-a-kind retreat centre bringing together the best yoga facilities, beautiful eco-chic accommodation, delicious healthy food, relaxing spa treatments and welcoming staff.
You fly into Puerto Vallarta international airport (PVR) from there it is a short 15 minutes transfer to the boat pier. A beautiful 20 minutes boat ride will bring you directly to Xinalani Retreat.. your location for the week. Access is by boat only which guarantees absolute privacy but don't worry.. plenty of activities are included for the week and if you wish to escape you can get a boat taxi back to the busy town of Puerto Vallarta at anytime.

Rooms with a stunning view
The week:
Combine daily Hot Yoga classes (all in a heated room in the jungle overlooking the ocean), workshops & posture clinics together with fantastic food (a choice of seafood, vegetarian/vegan and chicken), a jungle hike to a beautiful waterfall, massages and beauty treatments, a beach bonfire, an optional traditional Mexican cooking class, a salsa class and more. You are about to experience the real unspoiled Mexico whilst having the highest standard of accommodation and luxury amenities around you – combine that with your passion for yoga, add some cocktails and Latin music…surrounded by beautiful nature… the perfect mix for a holiday of a lifetime.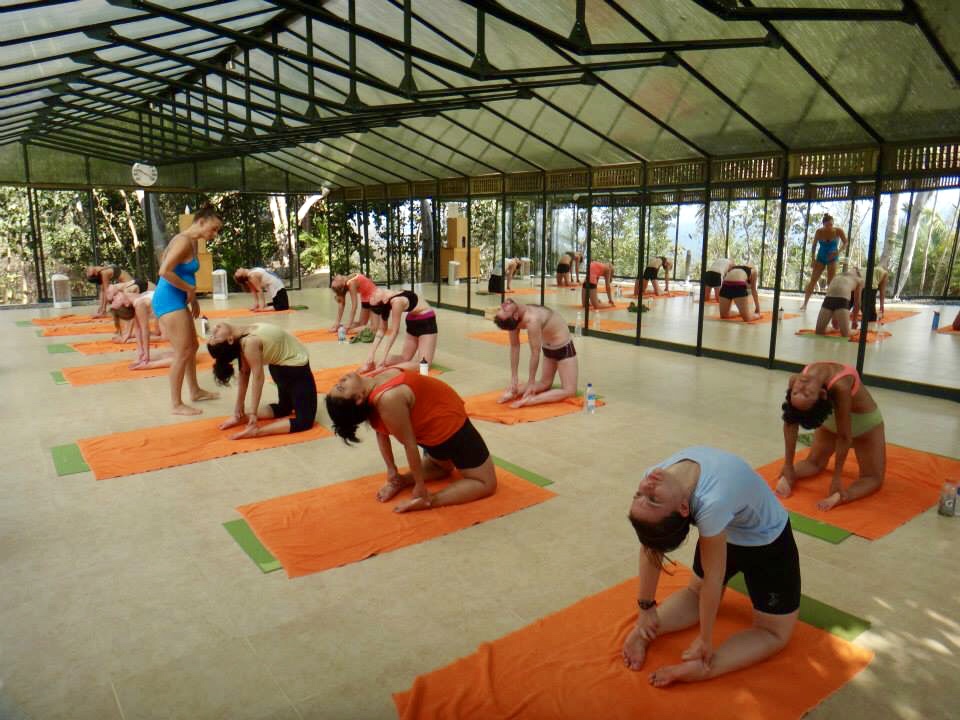 Yogis at our last retreat in the beautiful jungle studio, equipped with heaters, mirrors and the best view of the ocean
Example of a day at our Retreat week:
7.30am – 8.00am Morning Coffee, Tea & Fruits and Granola
8.00am- 9.30am Morning Bikram Yoga Class
10.00am – 10.30am Breakfast
10.30am – 12.00pm Free time & additional activities
12.00pm – 1.00pm Workshop/ Stretching/ walk/
1.00pm – 2.00pm Light lunch
2.00pm – 4.00pm Free time
4.30pm – 6.30pm Bikram Yoga Class/ Posture clinics/ Q & A Sessions
7.00pm – 8.00pm Dinner
Please note: we offer a lot of classes and workshops during all of our retreat weeks, rarely do guests attend all of them and that's fine. Don't feel pressured in doing so – this is your holiday and you decide where to take part and where not. We have learned over the years that every guest has a different schedule/goals/reasons to come to our retreats as such we always offer a wide selection of classes and courses. If you do like to knock yourself out in all of them then you are of course welcome to do so as well!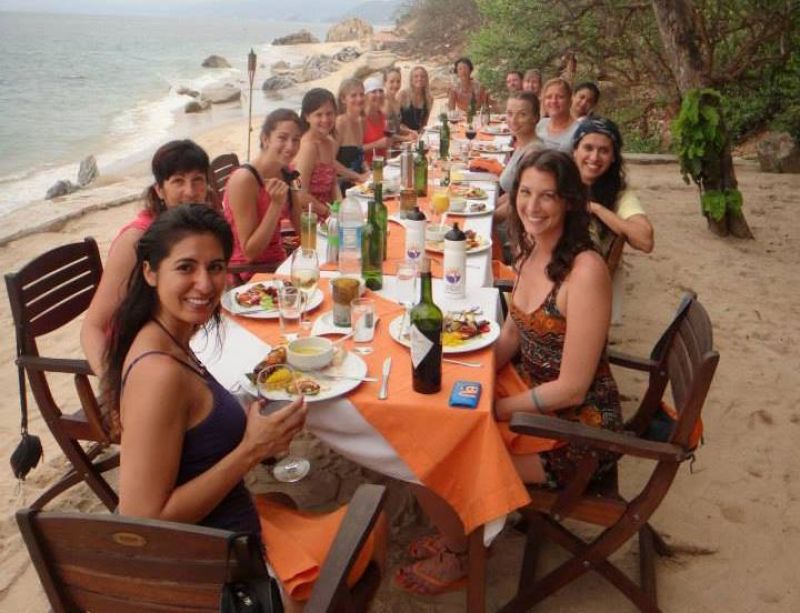 Dinner with our Yogis at Xinalani – stunning location – great company and fantastic food
Additional optional activities:
Whether you're looking for adventure or serenity, there are plenty of additional activities on offer at Xinalani. Swim with dolphins (in the nature not a pool), take a surf lesson, take a traditional Mexican cooking class, go on a shopping trip to nearby Puerto Vallarta or indulge in so many fantastic spa treatments. Scuba dive or take an SUP class. Shamanic healing sessions can be organized as well as fishing and a sea safari. The choice is yours. All activities can be arranged once you arrive at Xinalani.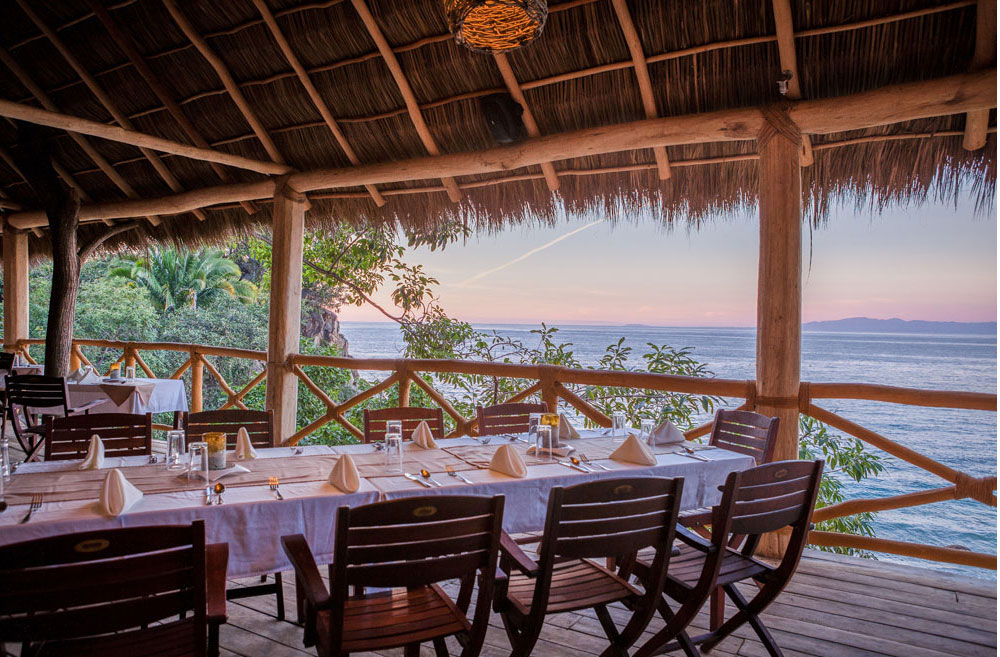 Dinner with a view – enjoy fantastic Mexican and international dishes for the week
What's included in this retreat of a lifetime:
7 nights accommodation of your choice – please see accommodation options below
3 healthy and delicious meals a day served at the Restaurant with vegetarian, meat and freshly caught seafood options as well as healthy fresh juices
Daily morning Coffee, Tea, Fruits and homemade granola
2 Daily Bikram Yoga classes in a heated studio overlooking the jungle and the ocean
Posture Clinics and Workshops
A jungle hike to a beautiful waterfall – explore the beautiful flora and fauna of Mexico's wilderness
Transfers to and from Puerto Vallarta airport by taxi/van and boat to the retreat centre on the day of the arrival and day of the departure of the retreat only
All Yoga mats, towels, props
Unlimited purified drinking water
Free use of kayaks and boogie boards
Beach towels, Free WiFI throughout the property, organic toiletries in all rooms
Accommodation:
There are 4 accommodation options available during our Retreat week – a detailed desciption is below:
Casitas:
MOST COMFORTABLE AND LUXURIOUS ROOM WITH A/C AND PLUNGE POOL. Our best option for couples or single travellers, the Casitas have a spectacular ocean view and a unique zen-chic setting. All Casitas are 538 sq ft and have a private terrace, a hammock, a sitting area, a private bathroom, a closet, luxurious amenities and amazing settings. All beds are king size and have pillow top mattresses, and gorgeous mosquito netting.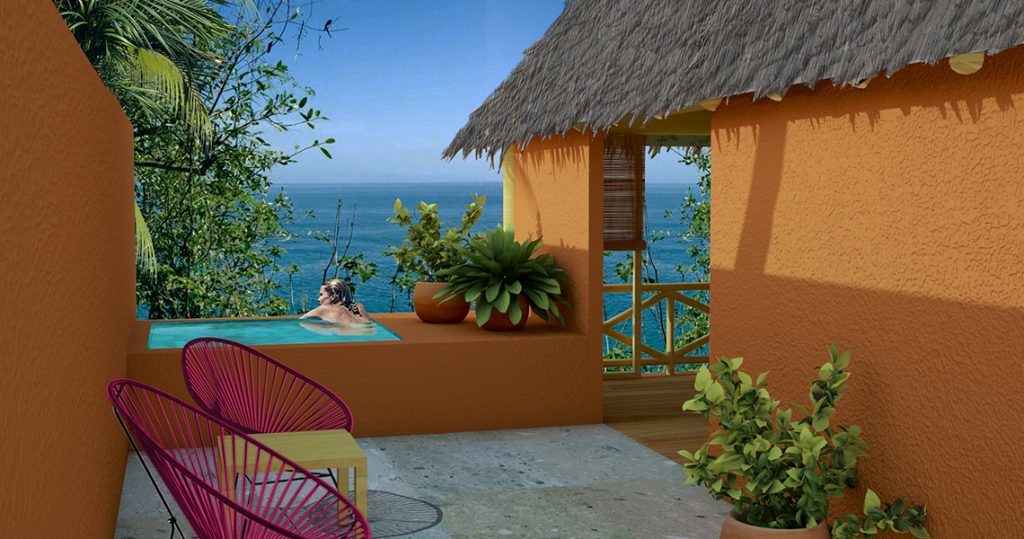 The casitas – private plunge pool and first row ocean views included
Eco Chic Suites :
PRIVATE AND SPACIOUS WITH SPECTACULAR VIEWS – With the best locations on the property, these open-air suites have the most spectacular ocean views and unique zen-chic settings. Each has either one king size bed or two double beds with pillow top mattresses, luxury linen, and beautiful mosquito netting. All Eco-Chic Suites have a private terrace, hammock, sitting area, private bathroom and closet.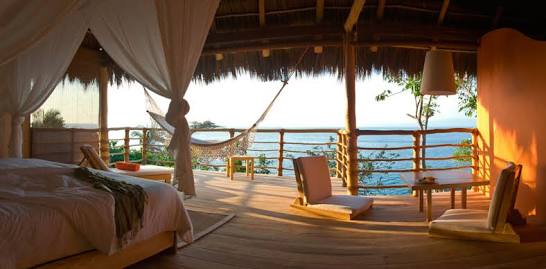 The Deluxe Eco Chic Suites (king size bed or 2 queen size beds) – stunning ocean views are included
Deluxe Rooms:
COZY ROOMS LOCATED NEAR THE RESTAURANT AND BEACH CLUB – Deluxe rooms are cozy and perfect for single travelers, two friends, or budget-savvy couples. They feature either two single beds or one double bed, a spacious bathroom, open-air shower and sitting desk.
Deluxe rooms with either one double or 2 single beds
Palapa:
The Big Palapa is a spacious, 880 sq. ft. dorm-style room with amazing ocean and jungle views. It has two luxurious bathrooms, and each bed has its own mosquito net, nightstand and a drawer under the bed. It's the best option for budget-savvy and community-seeking yogis and travelers.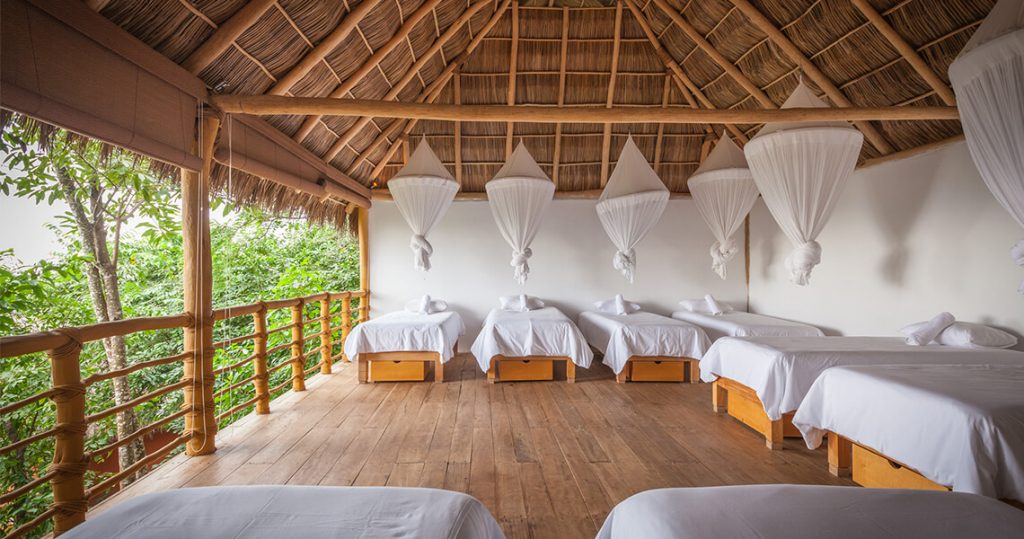 The Palapa – stylish dorm room accommodation – with a view to nature and the ocean
PRICES – all prices are PER PERSON! – as per room description above:
Casitas (Only 2 available)
Single (King size bed): 3995 USD
Shared (only for Couples – king size bed): 2995 USD
Eco Chic Suites:
Single (King size bed): 3495 USD
Shared (2 queens size beds): 2495 USD
Deluxe Rooms:
Single (double bed): 2695 USD
Shared (2 single beds): 2195 USD
Palapa (single – one bed in shared dorm): 1795 USD
Please note: Should you book the shared accommodation option for the deluxe eco chic suites or deluxe room and travel by yourself we will match you with another guest of the same gender and age range.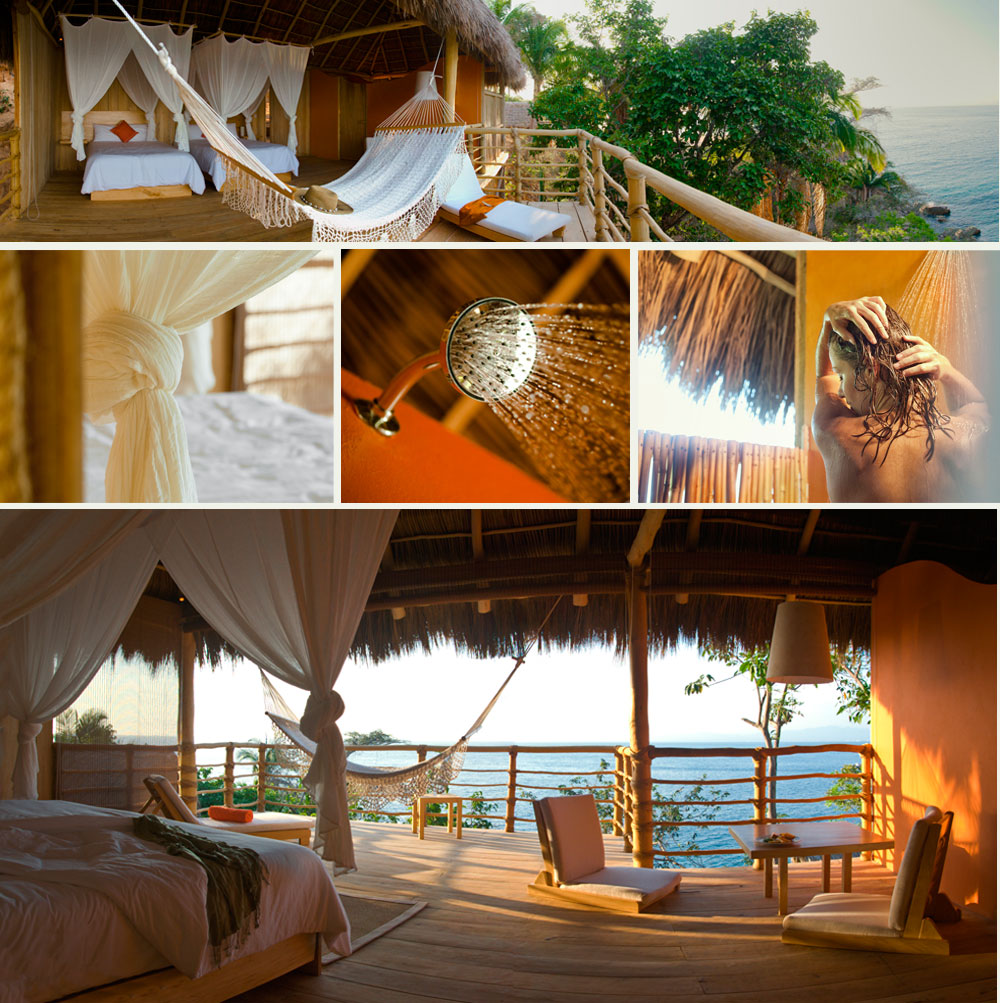 Beautiful accommodation at Xinalani
Please note:
Travel insurance is not included but we highly recommend you get it
All prices are in USD, should you wish to pay in another currency you need to pay the commission/ additional fees for that
An initial $1200 USD deposit is required to secure your place at our retreat, 1000 USD for the dorm room option
The remaining amount is due no later than 60 days prior to the retreat start date
Payments can be made via direct bank transfer/ deposit or PayPal, fees are NOT included (3% PayPal fees)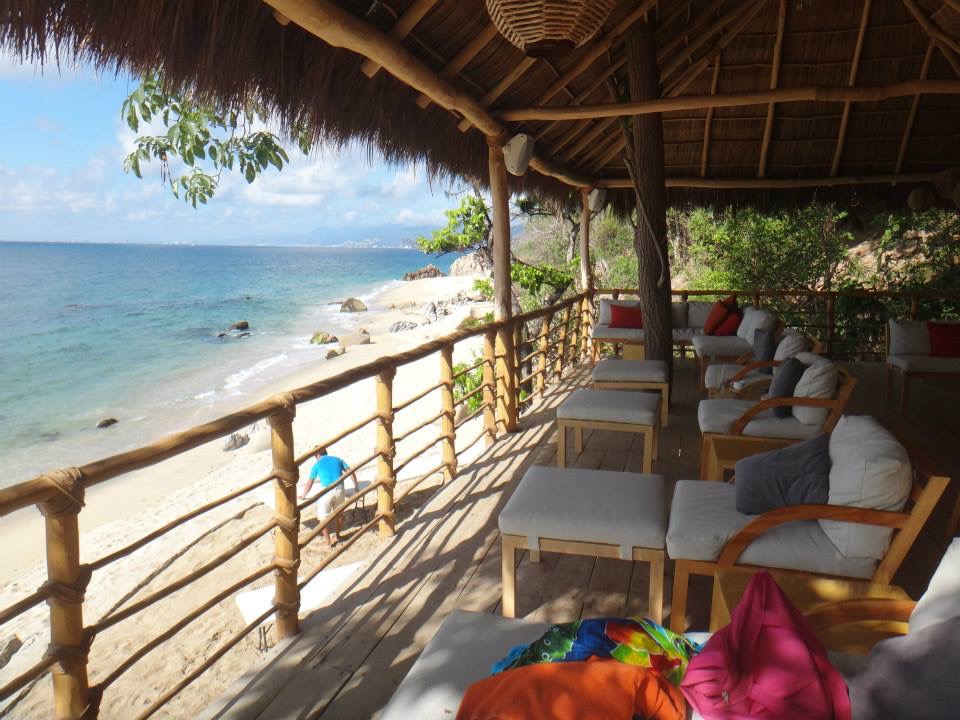 Time to relax ? The perfect place to relax and recharge
Cancellation Policy:
Any cancellation will require an administrative fee of $150 USD
Up to 120 days prior to the retreat start date – the full amount paid will be refunded
Up to 70 days prior to the retreat start date – 40% of the full amount paid will be refunded
Up to 45 days prior to the retreat start date – 20% of the full amount paid will be refunded
After 45 days prior to the retreat start date – no refund applies
Refunds will be reimbursed within 30 days from the day of notifying us
Are you ready to…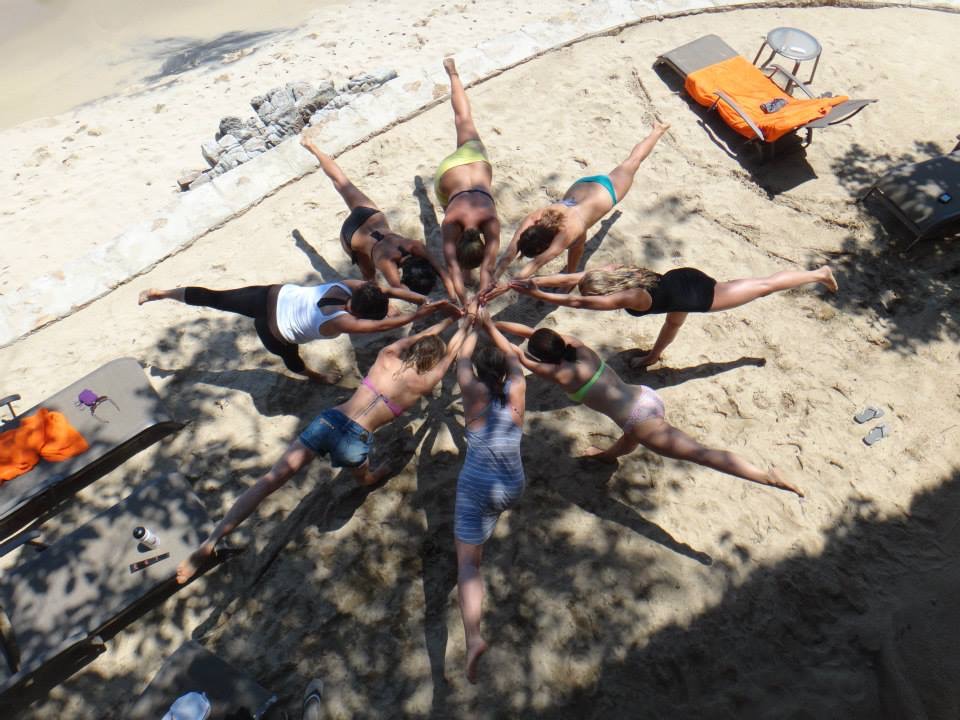 Some Yoga fun at our private beach