Luxury Hot Yoga Easter Retreat – Thailand 2018
Luxury Easter Retreat with Rowena Jayne
Saturday 31st March – Saturday 7th April 2018
(Friday 30th and Monday 2nd is a holiday in most countries)
The week
This Easter, experience 8 days / 7 nights of pure relaxation, daily Hot Yoga Classes, nutritional workshops and more at the luxurious Absolute Sanctuary – Thailand's premier detox & yoga resort located on the beautiful island of Koh Samui.
Our first ever retreat took place at the Sanctuary in 2013 – 5 years and 30+ retreats later and we are so happy to return to where it all started. (Check out pictures from past Retreats here – and this handy fact sheet with useful information about Thailand and the retreat location.)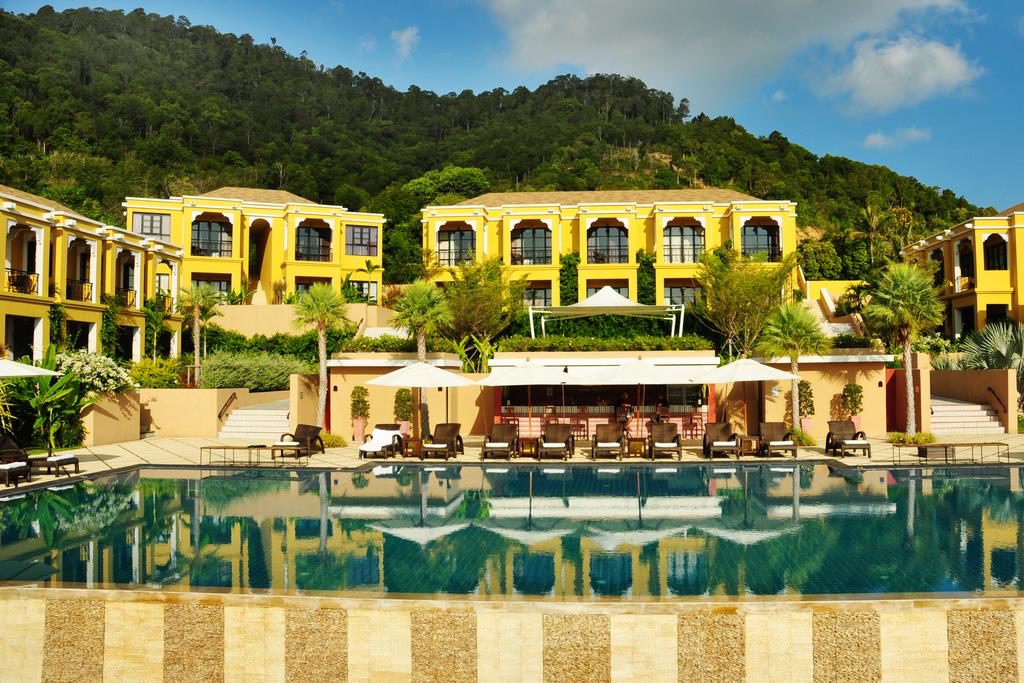 Absolute Sanctuary is a stunning, Moroccan-inspired boutique resort that is haven to those seeking a journey back to balance, rejuvenation and a healthy lifestyle. Here, they offer you more than the pleasures of an island paradise enjoyed in the comfort of modern facilities. It has won many awards for being Asia's premier detox, spa and yoga destination.
The week will be filled with daily Bikram Yoga classes in a heated studio, advanced classes, workshops and nutritional seminars by the amazing Senior Teacher, Raw Food Nutritionist and international speaker Rowena Jayne.
We will also be offering additional Aqua fitness and Pilates classes for those interested in trying something new.
In addition, guests will experience some of the great local markets, swim in the crystal clear ocean, visit the stunning Big Buddha landmark on Koh Samui and head to the famous W Retreat for a cocktail night out.
The week is open to all levels and all classes are of course optional for everybody to attend. There will be enough time to also relax by the pool and book some great spa treatments if you wish.
The spa at the absolute sanctuary is highly recommended and boasts amazing massages, peelings, detox treatments, facials and more. Our retreat guests receive a twenty percent discount on all treatments. This retreat is perfect for anyone who wants to relax and deepen their practice in a luxurious environment while learning and experiencing the Thai culture and food.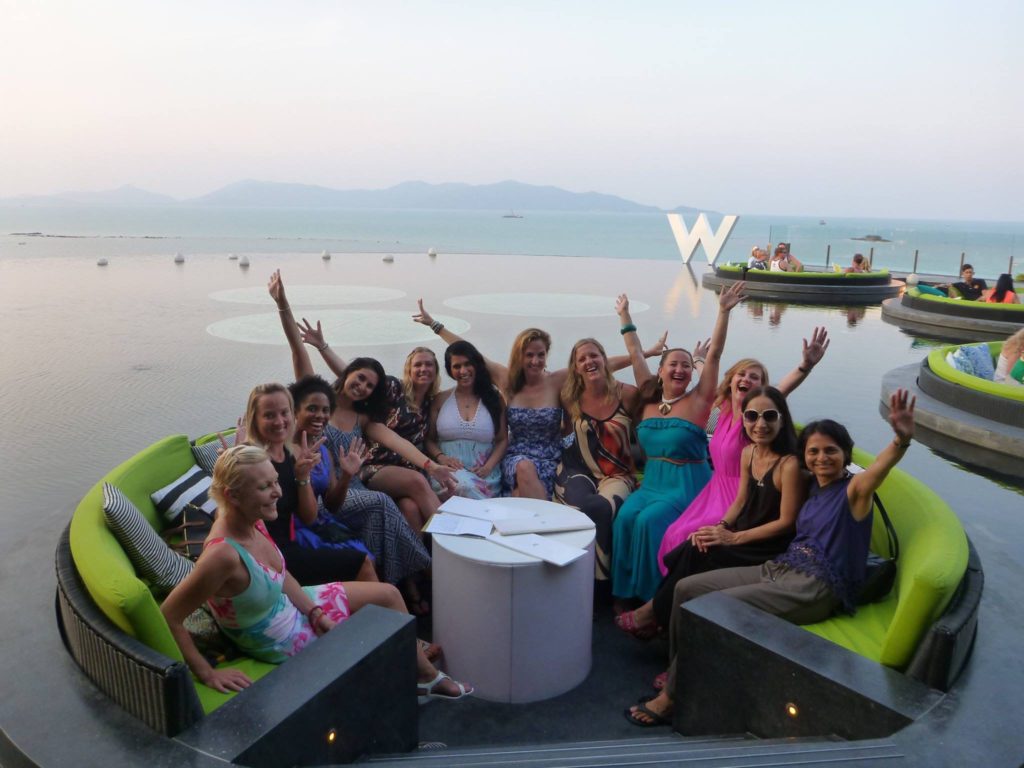 At the W Resort – always one of our guests favourite nights
Yoga:
All Yoga classes are taking place in the beautifully heated studio overlooking the jungle, set right on the premises of the Sanctuary – 2 min. walk from the rooms and pool. Sometimes you even get to see monkeys. The studio is equipped with heaters, mirrors and wooden floors. All mats and towels are provided for each class. There are also changing rooms, lockers,showers and toilets at the studio.
We will be holding one Bikram Yoga Class in the morning and one on most afternoons. On a few afternoons we will also offer advanced classes. During these times additional Yoga classes will also be available for beginners if you don't feel like attending advanced classes.
In addition there will be a mix of workshops around yoga postures/stretching/backbending exercises, acqua fit classes and pilates classes offered to those who would like to try something new or really want to get a full workout for the week. All classes are of course optional and no one is expected to attend all of them. Do as much or as little as you like during the week, its your holiday.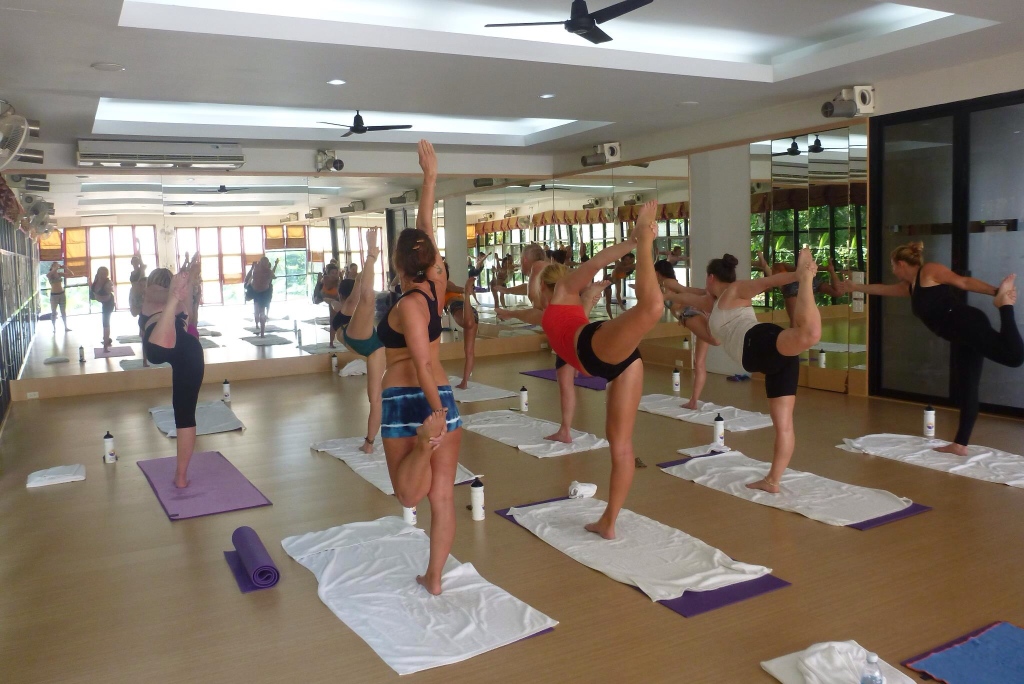 The yoga room – the jungle is to the left
Nutritional seminars:
As we are having the raw food specialist, published author and advanced chef Rowena with us for the week we will also be offering 2 nutritional seminars focused on Ayurvedic meals and food preparation. Rowena published her first book a few years back and we are delighted to learn from her firsthand. A lecture about superfoods combined with a raw food demonstration are also part of this week. We are super excited to have Rowena come back to teach during the week and give us an insight into nutrition.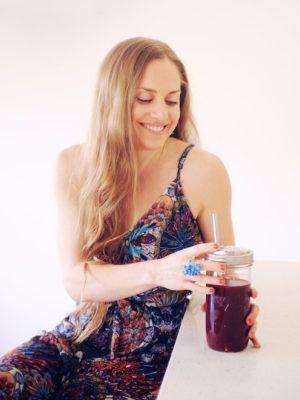 The amazing ROWENA JAYNE
Accommodation:
Inspired by the stunning architecture of Morocco, ABSOLUTE SANCTUARY boasts 38 luxurious rooms, each featuring vibrant yet soothing color themes, unique decorative details and modern amenities to ensure that you never want for anything.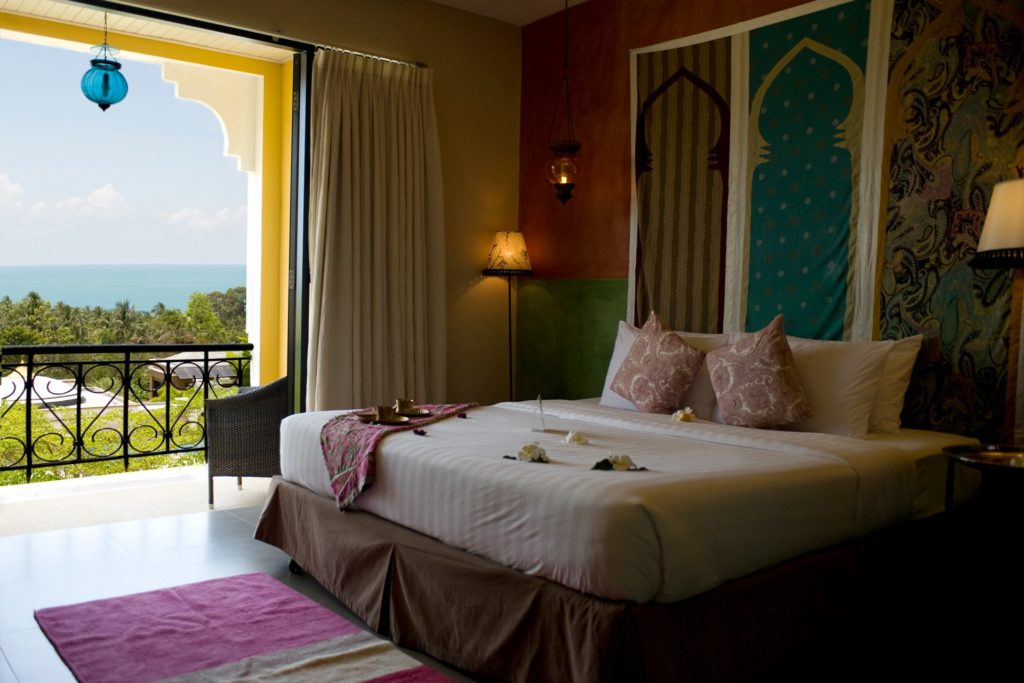 Example Deluxe Suite room with King size bed
All of their elegantly spacious rooms feature comfortable beds and linens, en-suite bathrooms with stylish tiling, air conditioning & ceiling fan, desk, safe, TV, WiFi, mini-fridge, tea and coffee making facilities, hair dryers, bathrobes and slippers, telephone and a terrace or balcony where you can relax and enjoy the view to the ocean.They also provide a range of locally made organic bathroom amenities with which you can pamper yourself even more.
There are 2 types of accommodation available. Super Rooms and Deluxe Suites. They all feature the above, in addition the Deluxe Suites are larger in size and have a king size bed , as opposed to a queen size bed in the Superior Suites. Deluxe Suites also feature a large bathtub and stunning ocean views. They can only accommodate single travellers or couples as there are no twin beds available. The Superior rooms are perfect for sharing as they either feature twin beds or a queen size bed and partial ocean views in most rooms. Whichever accommodation option you chose you will for sure love your room.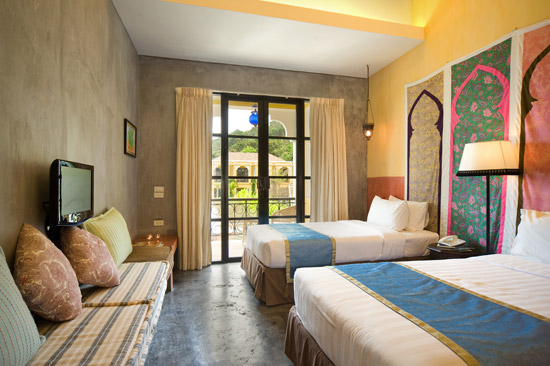 Example Superior Rooms – shared accommodation – twin beds
Meals:
The award winning Restaurant at the Sanctuary will be the location for our daily brunches and most dinners. It boasts healthy, organic meals with most ingredients coming directly from the garden next door or are locally sourced.
Rich in vitamins and minerals all meals are buffet style and boast a selection of vegetarian, raw, vegan and fish options. A couple of meat options are available too. Most meals are gluten and lactose free and a mixture between Thai and western cuisine. Expect a minimum of 8 different dishes (mixture of starters, mains and desserts) at each meal so plenty for everyone to choose from. There are also always healthy raw pressed juices available with the meals.
The staff also cater for different dietary requirements so should you wish to have an all vegan or raw diet or have different allergies/ food intolerances – that is no problem at all. Please just let us know on your booking form. During lunch time we will also providing a light, healthy snack made of fresh fruits and soups and salads. Previous guests have always raved about the amazing food at the Sanctuary, so get excited and come see for yourself.
Also – Koh Samui is very well known for being one of the main culinary destinations in Asia and boasts many fantastic restaurants with internationally reknowned chefs, we would like to take our Retreat participants on a journey to explore some of the fine foods and also street food Samui has to offer. On 1 night we will be going out to an amazing dinner location as well.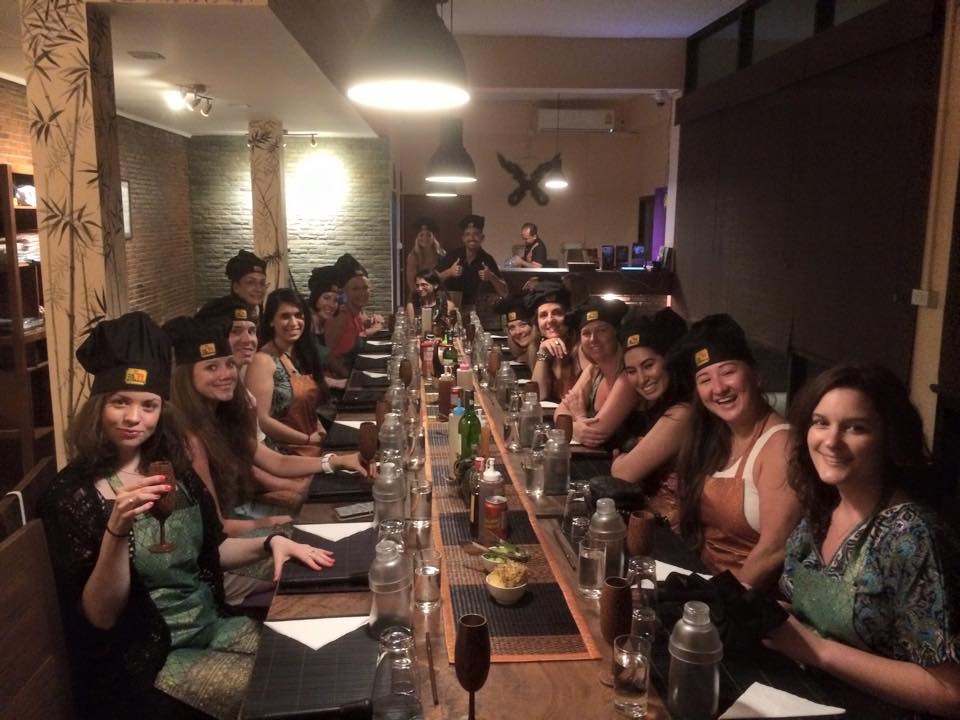 Thai speciality dinner – an evening not to be missed – our previous groups loved it
What's included in this retreat week of a lifetime:
7* nights luxurious accommodation of your choice (see above for room descriptions)
7 * Brunch with a wide selection of homemade cereals, fresh fruits, various salads, soups and egg dishes
Daily fresh juices and unlimited filtered water
7 * Healthy lunch snacks including, fruits, soups, rolls etc.
5 * Dinner – a combination of raw food, vegan, vegetarian, fish and meat
All Yoga Classes (twice daily) , workshops, posture clinics, additional classes and more
2 * nutritional workshops by Rowena Jayne
Half day excursion to the Big Buddha – Koh Samui's amazing landmark and the waterfalls including a visit to the local market
Transfers to and from Koh Samui airport to the Absolute Sanctuary by private minivan
All Yoga mats and towels
20% discount on all a la carte Spa and Detox treatments
15% discount on all food and beverage items outside of Group meal times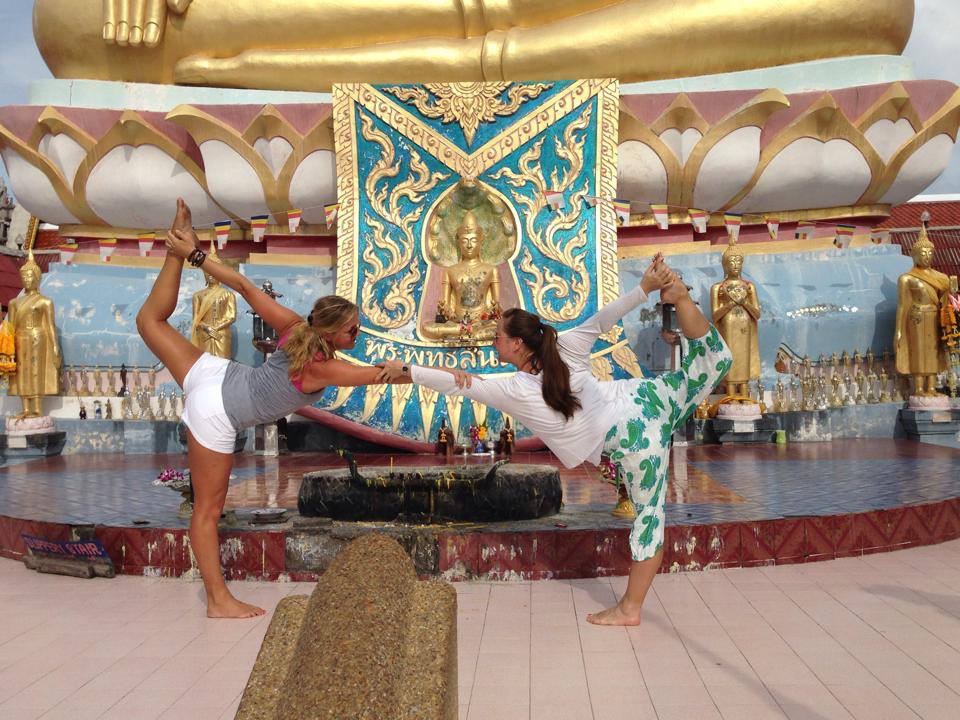 Example of a day at the retreat:
| | |
| --- | --- |
| 7.00am – 8.00am | Morning Tea and Coffee |
| 8.00am – 9.30am | Morning Bikram Yoga Class |
| 10.00am – 11.00am | Brunch |
| 11.00am – 2.00pm | Free Time |
| 1.00pm – 1.30pm | Healthy Snack (Fruits, soups etc) |
| 2.00pm – 3.30pm | Workshops/ Acqua Fitness Class/ Pilates Class/ Handstand/ Arm Balancing workshop/ posture clinics |
| 4.30pm – 6.00pm | Yoga Class |
| 6.30pm – 8.00pm | Dinner |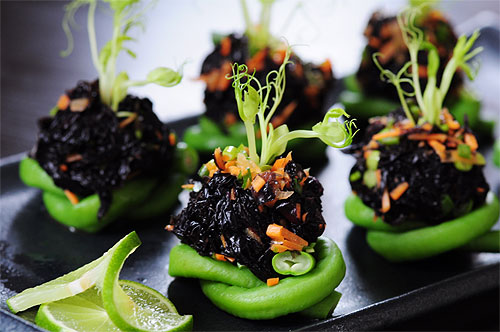 The Love Restaurants famous Spa cuisine awaits us during the week – healthy and delicious
Prices – all prices are per person!
See room descriptions above under the accommodation section
Superior rooms:
Twin share (2 beds) 1950 USD
Single (queen size bed) 2350 USD
Couple 1950 USD
Deluxe Suites:
Single (king size bed) 2750 USD
Shared (for couple only – king size bed) 2150 USD
Paypal/ bank transaction fees are not included!
How to get there:
Koh Samui is easy reachable by plane. It's a short 1 hour flight from Bangkok with Bangkok Air and Thai Airways with over 13 flights a day. Other direct national destinations are Phuket and Chiang Mai. There are also international direct daily flights from Hong Kong, Singapore and Kuala Lumpur. There is the option to go directly to Koh Samui by road / overnight bus and ferry, we only suggest this though if you have some spare time as the trip takes at least 10-12 hours from Bangkok. Ask us for further info if you plan to take this option.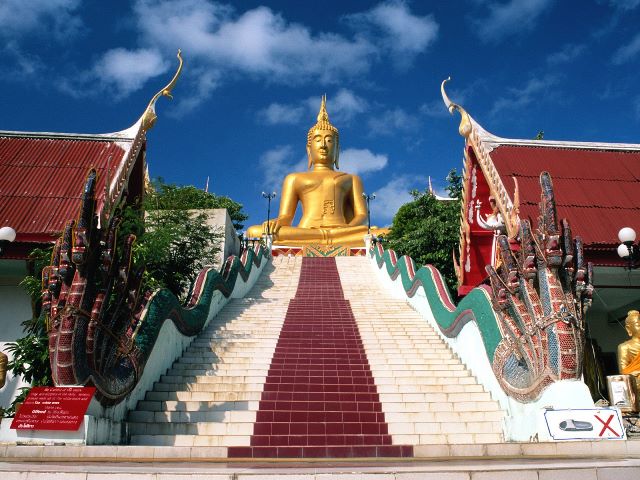 The golden Big Buddha – Koh Samui's landmark and definitely worth a visit
What is NOT included:
International/national flights to Koh Samui are NOT included in the price
Travel insurance is not included but we highly recommend it
Paypal/ bank transaction fees are not included. Payments can be made either via PayPal or direct bank deposit, please note that the fee for these transactions is not included in the price.
Dinner on 1 night where we will be visiting an amazing restaurant on the island. Feel free to join us, prices are on average 15-20 USD for a main course for that night.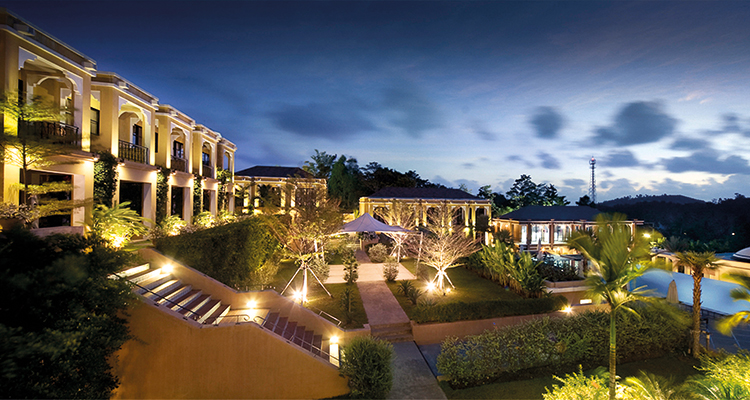 The Sanctuary by night
Please also note:
Check-in on the first day of the retreat is from 2pm. Check-out on the final day is by 12pm. Airport transfers can be arranged for any time on these days. The hotel will do its best to accommodate earlier arrivals/late departures where possible. Should your room not be ready yet you can always leave your luggage with the hotel and relax by the pool or grab a bite at the restaurant.
Travel insurance is not included in the above price but we highly recommend it
An initial $1200 USD deposit is required to secure your place at the retreat
Should you book the shared accommodation option by yourself we will be matching you with another guest of the same gender and age range
The remaining amount is due no later than 60 days prior to the retreat start date
If you pay the whole amount up front you'll receive a 5% discount on the total price
Are you ready to…

Cancellation Policy
Any cancellation will require an administrative fee of $150 USD
Up to 120 days prior to the retreat start date – the full amount paid will be refunded
Up to 90 days prior to the retreat start date – 40% of the full amount paid will be refunded
Up to 60 days prior to the retreat start date – 20% of the full amount paid will be refunded
After 60 days prior to the retreat start date – no refund applies
Refunds will be reimbursed within 30 days of notification to us