Luxury Bikram Yoga Retreat – Ubud, Bali – October 2017
Saturday, 14th – Saturday, 21st October 2017
We are back in Bali this October. Our 10th Retreat in Bali will be held in magical Ubud; set in the stunning Balinese rice fields and hills. It is not only "world yoga central" as many locals describe it but boasts fantastic restaurants (some of which we will visit), spa's, local markets, temples and an absolute abundance of nature. It is also the ideal place to relax, recharge and get hot hot hot during our classes and workshops.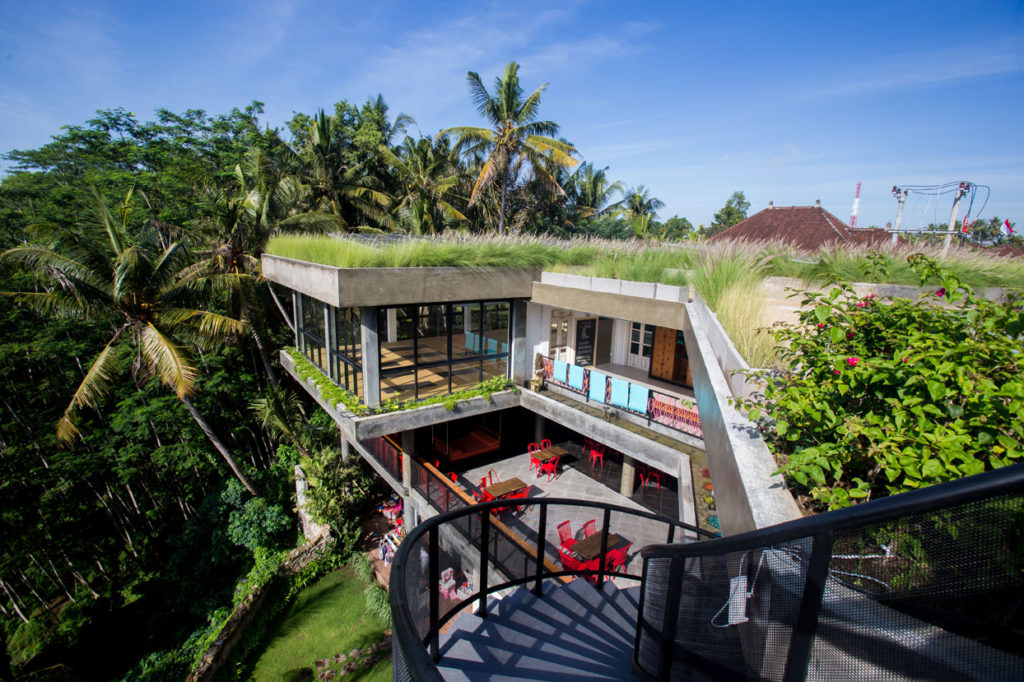 The Yoga room – all equipped with heaters, towels and mats overlooking the lush tropical jungle
We have planned a fantastic week including daily Bikram Yoga classes by top instructors, workshops, cooking classes and more!
Experience the magic and culture Bali has to offer with its beautiful temples, gourmet cuisine, ceremonies and much much more. Take part in daily Bikram Yoga classes in a heated studio, relax during a massage and enjoy freshly prepared meals in a jungle setting. Join a traditional cleansing ceremony, enjoy shopping at the many beautiful shops in Ubud and learn to prepare delicious Indonesian meals during our cooking class. Or simply… Take a dip in the stunning pool at our hotel with a freshly pressed juice or fresh coconut in your hand.
Location:
Our Retreat location for the week is Ubud which is located 35 km northeast of Bali's International Airport; around 1 – 1.5 hours by car. It is attractive to tourists for a variety of reasons.
On a relatively small island with a wealth of attractions, Ubud is centrally located, there are plenty reasons why Ubud was voted recently as the most fascinating city of Asia by Condé Nast Traveler.
The Ubud area is around 200-300 meters above sea level and surrounded by rice fields, which makes it noticeably cooler than the other tourist destinations in Bali, still very hot though on any given day if you are not used to the Indonesian temperatures and humidity.
Neighbouring villages are well known for unique bamboo crafts and furniture, wood- and stone carvings and many other crafts. Ubud is also famous for its art and craft which can be discovered in many of the different galleries, markets and shops. Ubud is popular in part today because it is the best place in Bali to break out of the tourist mode and get off the beaten path, although far from undiscovered.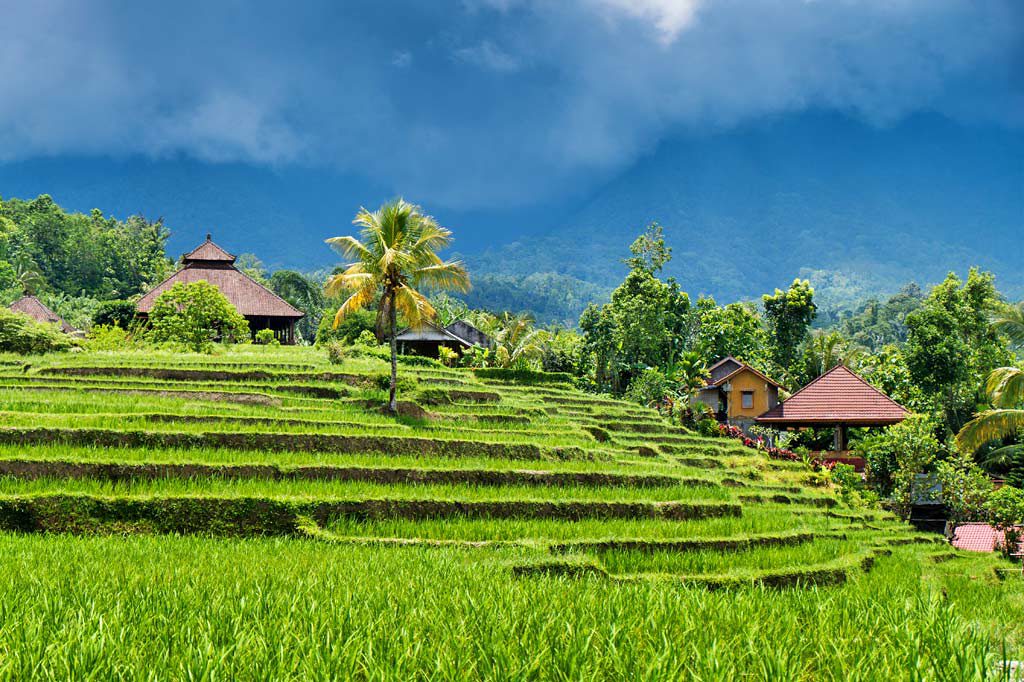 Ubud' stunning rice fields
Yoga:
All Yoga classes are held in our own private heated yoga room at the newly built Ubud Yoga Centre, 5 min. walk from our hotel.
Overlooking the jungle and equipped with state of the art heating and mirrors, the Centre also boasts a cafe where they serve mainly organic food and fresh juices and a yoga shop.
For the Yoga classes all mats and towels are provided as well as unlimited refillable water and a healthy juice after class. We will hold one Bikram Yoga Class in the morning around 8am and one in the afternoon around 5.00pm. Most afternoons are further spend with workshops, posture clinics or more time to relax.
Please don't feel pressured into attending all events and classes; it is a full on schedule but we leave the option to everyone open to attend.
Do as much or as little as you like, it is your holiday after all!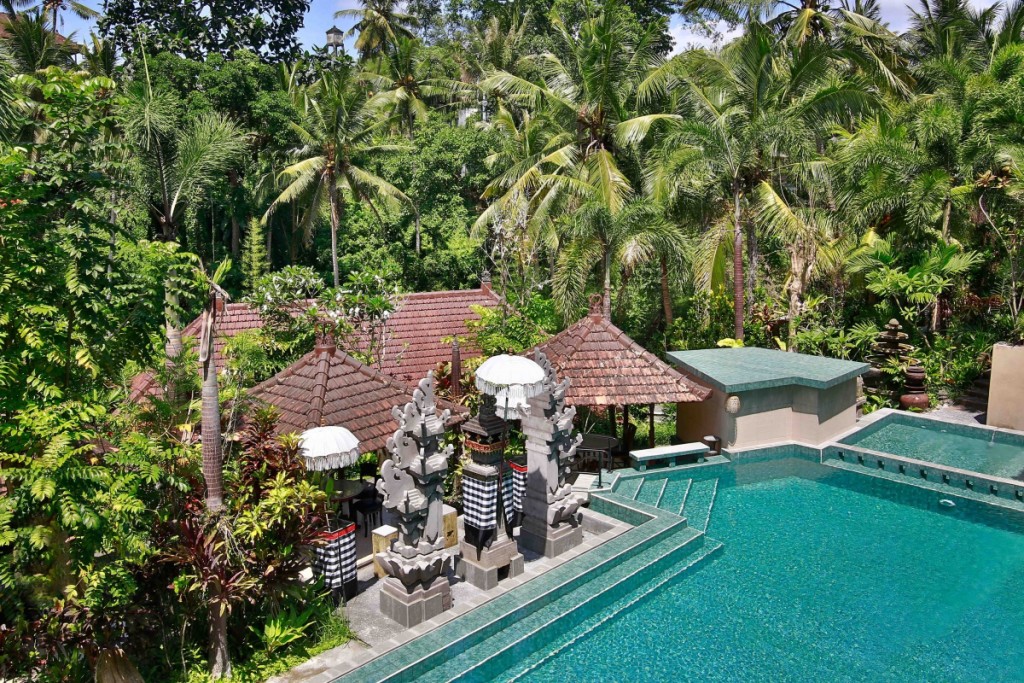 One of the two stunning hotel pools
Accommodation:
The Bali Spirit & Spa Hotel **** is set in a quiet and peaceful location. It is only a short 5 min. walk to the Yoga Centre. It boasts 2 large pools, one with swim up bar, a spa, temple, meditation facilities and yoga room, the river forest restaurant which offers views of the river valley and a selection of Indonesian and international dishes, a wellness area, dry cleaning and laundry. The ideal place to relax and recharge.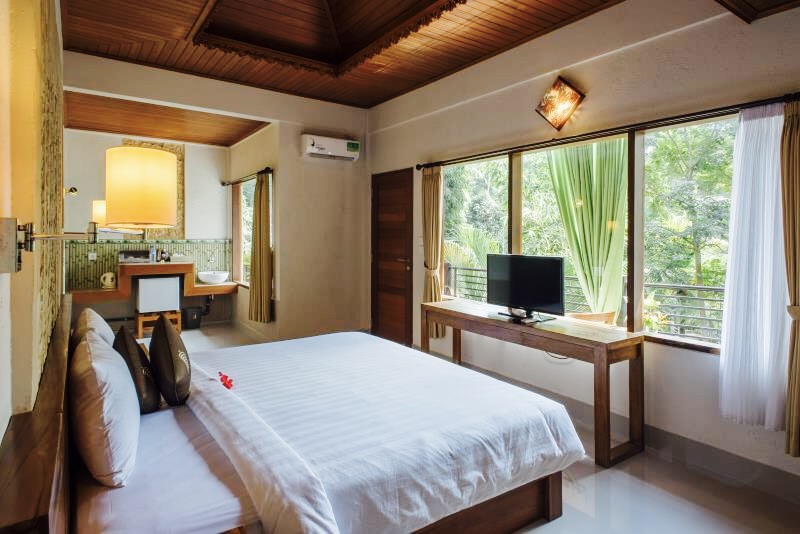 Example of the beautiful stylish rooms (king size bed)
All rooms feature: king size bed for single accommodation or twin beds for shared accommodation , balcony or patio with a view to nature, air-conditioning, fans, coffee & tea making facilities, flat screen TV, minibar, private semi – open bathroom with shower, toiletries, hairdryer, desk, free WiFi and daily housekeeping.
Check-in on the day of the start of the retreat is after 1pm with our first communal yoga class starting at around 4-5pm. Please try and arrive at Denpasar airport no later than 2pm .

Check–out on the final day of the retreat is 12pm. If your flight is much later, that's not a problem you can leave your luggage at the hotel and pick it up before your transfer to the airport.
Additional nights: If you plan to arrive earlier or stay longer in Ubud that is not a problem, just send us a quick message and we can arrange additional nights for you.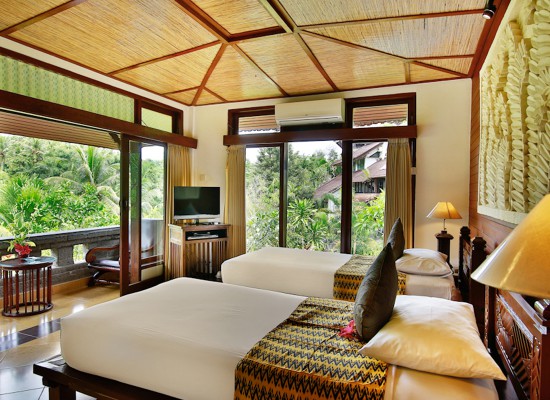 Example room (twin beds)
What's included in this trip of a lifetime:
– 7 nights luxury accommodation in either single deluxe king size bed or shared deluxe rooms (twin beds)
– Daily gourmet breakfast
– Gourmet Dinner on 4 nights where we will be visiting some of Ubud's best restaurants including a traditional Balinese performance.
– All Yoga classes, master classes, workshops in a heated studio
– All Mats and towels
– Unlimited filtered water refill
– fresh coconut after morning class and a fresh pressed green juice before or after the second class
– Traditional Balinese cleansing ceremony
– 1 Massage – 60 min
– 2 – 3 hour Indonesian vegetarian cooking class where you learn to make a few delicious and healthy dishes
– Cocktail night
– Return transfers to and from Denpasar International Airport to the Hotel on the day of the arrival and departure of the retreat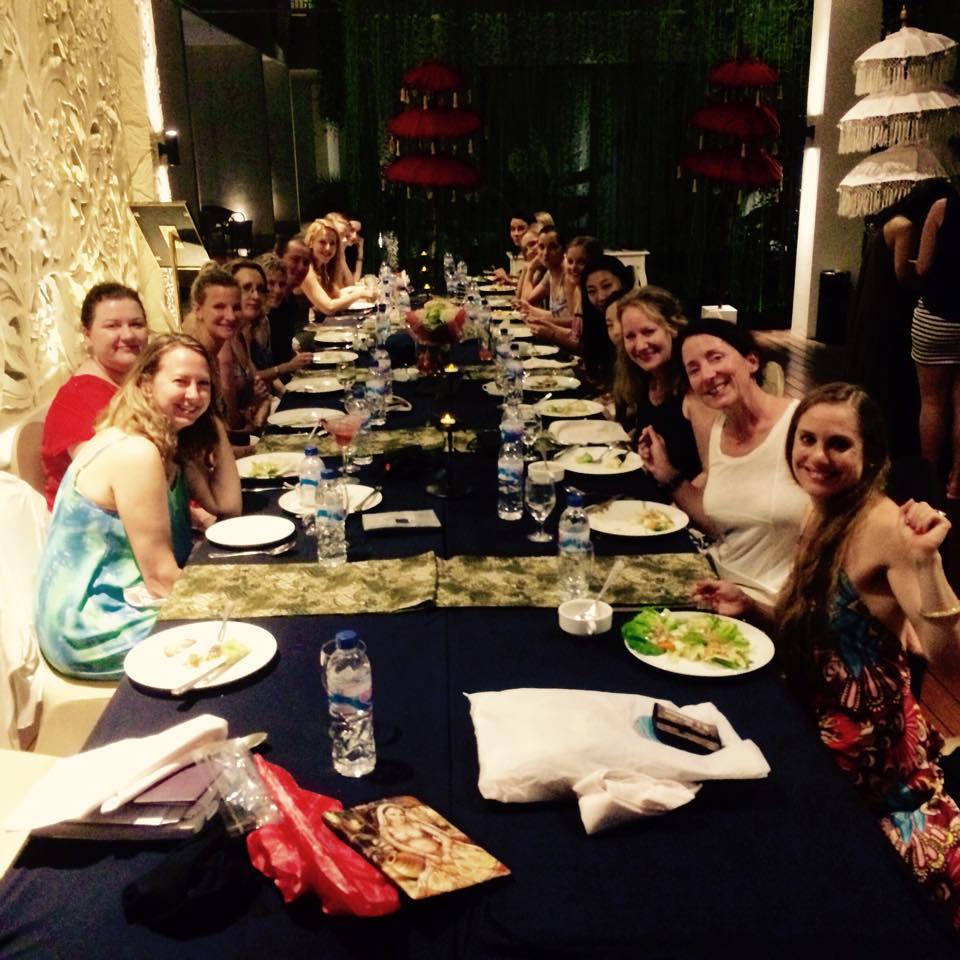 One of the many dinners we enjoyed in Bali at previous retreats
Optional activities which can be booked upon arrival:
– Tours to coffee plantations, bicycle tours in the rice fields, excursions to temples, monkey forest visit, Balinese healing ceremonies

Prices:
Per person:
Deluxe Double / Shared room (twin beds): $1800 USD
Come with a friend or sign up by yourself and we will match you with a guest of the same gender and age range
Deluxe Single (King Size Bed): $2300USD
Please note:
– The Retreat is open to all levels – join us for all classes or the ones you like!
– The Retreat is limited to 18 guests
– International / national flights to Bali (Denpasar) airport are not included in the price
– Travel insurance is not included but highly recommended
– An initial deposit of $1000 USD is required to secure your place at the Retreat.
– The remainder is due no later than 60 days prior to the Retreat start date
– Payments can be made via PayPal / Credit Card – the PayPal fee is included in the above price!
bali10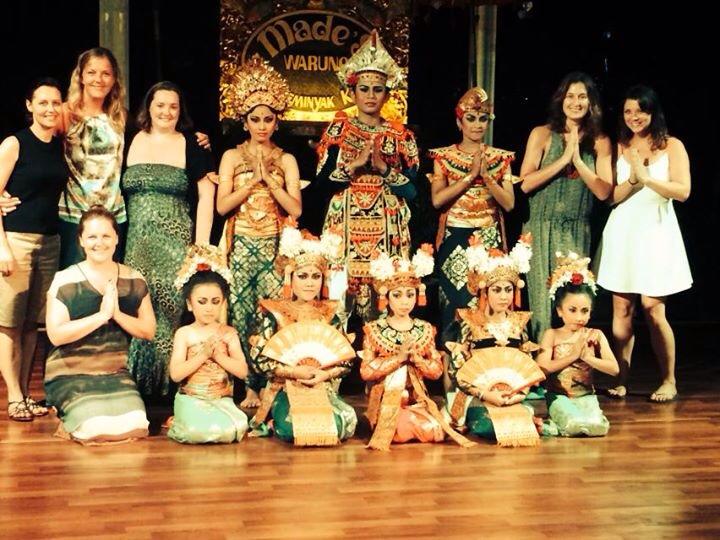 Traditional Balinese night at one of our past retreats
Cancellation Policy:
– Any cancellation will require an administrative fee of $150 USD
– Up to 120 days prior to the retreat start date – the full amount paid will be refunded
– Up to 70 days prior to the retreat start date – 40% of the full amount paid will be refunded
– Up to 45 days prior to the retreat start date – 20% of the full amount paid will be refunded
– After 45 days prior to the retreat start date – no refund applies
Are you ready to…

For any additional questions please email us directly at contact@hotbikramretreats.com