Hot Bikram Yoga Retreat Hawaii – April 2016
Sat, 16th April – Sat, 23rd April 2016
8 days, 7 nights
This April join us and World Yoga Champion Cynthia Wehr on a trip of a lifetime on the beautiful Island of Oahu, Hawaii on our 23rd Retreat. Time to celebrate!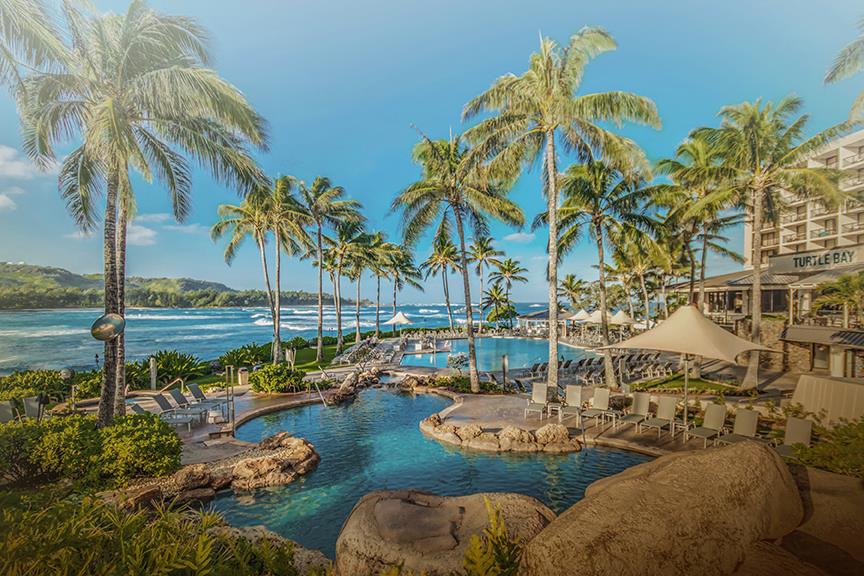 Enjoy daily Bikram Yoga classes and / or Posture Clinics to deepen your understanding of the 26 Bikram Yoga Postures. Whether you are new to Bikram Yoga or have been practicing for years you will after this week surely come back home with a much more improved practice. And a sun tan as well!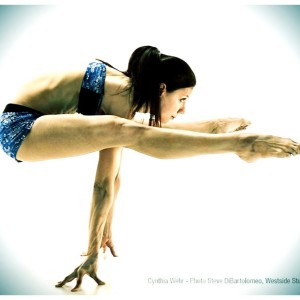 We will also be offering Advanced Classes at this Retreat  – don't worry if you don't feel like attending these classes or think you don't have the necessary experience to do so, there will be daily Bikram Yoga beginner series classes offered, posture workshops and much more.
We will start the day with an extensive Bikram Yoga class and then have enough time to indulge in our sumptuous breakfast / brunch followed by free time to relax or time to explore the beaches and beautiful surroundings.
In the afternoon we will continue with Workshops / posture clinics and / or another Bikram Yoga class followed by dinner. As much as Yoga is an essential part of this week there will be plenty of time to relax and discover the beaches.
We will also be doing a half day trip to the famous Waimea beach and valley including it's waterfalls and botanical gardens.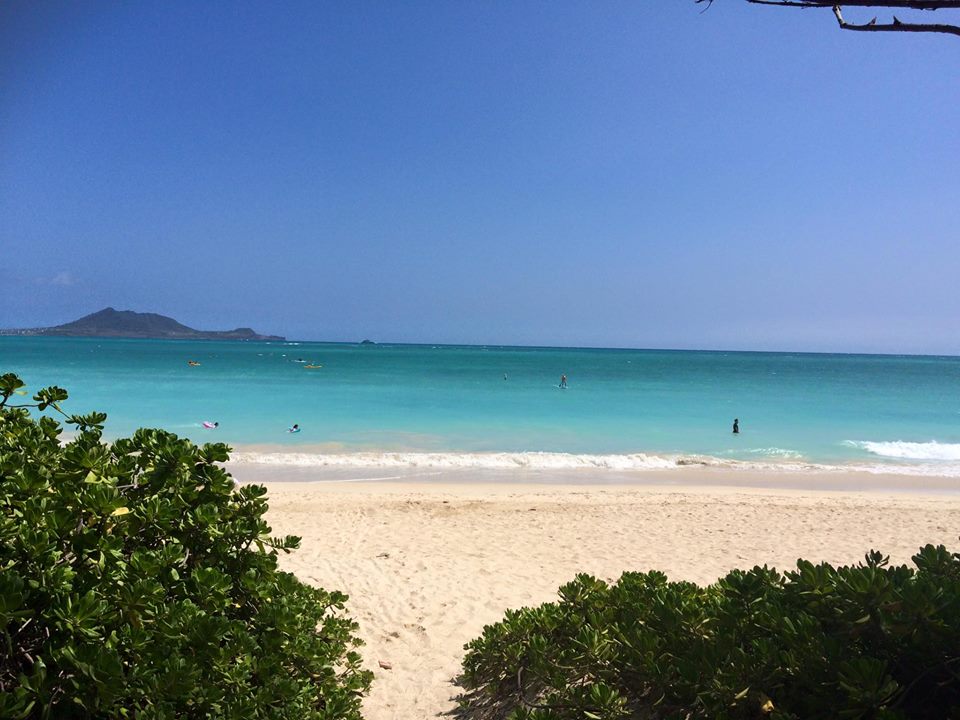 On the day of arrival (Sat, 16th April) we will be spending one night at Hilton Waikiki Village on the world famous Waikiki beach in Honolulu before where you will have a chance to try surfing and experience the Vibrant Waikiki beach scene. We will also be holding a Yoga class there on the day of arrival in the afternoon.
On the Sunday, 17th April (after breakfast) we will be heading to the famous Turtle Bay Beach Resort on the legendary North Shore for a 6 night luxurious stay with plenty of yoga and more.
Accommodation:
At the **** Hilton Waikiki Village (1 night)
King Bed Room (perfect for single guests or couple); Balcony. Desk. In-room safe. Cable television service. Premium television channel(s). Pay movies. HBO. Video-game console. Multi-line phone. Voice mail. Clock radio. Refrigerator. Coffee/tea maker. Makeup/shaving mirror. Designer toiletries. Hair dryer. Iron/ironing board. Blackout drapes/curtains. Air conditioning. Climate control. 24 hour room service
2 Queen Bed Room (perfect if you choose the shared accommodation option OR for 2 friends attending the Retreat together)
The same as the king bed room but equipped with 2 queen size beds.
At the **** Turtle Bay Resort (6 nights)
One of the most exclusive resorts in Hawaii on the famous North Shore will be home to us for 6 consecutive nights during our Retreat. Turtle Bay Resort is blessed with a richness of nature that few places can claim: the most powerful waves in the world as well as tranquil bays for swimming. Miles of seaside walking trails, a farm on site, and a bird sanctuary. Apart from the daily yoga classes and workshops we will be doing, this hotel boasts so many additional activities and world renown spa programs, ranging from surfing lessons, kayak tours, private horse rides (they have their own stables at the resort), helicopter tours, golf course, Hula lessons, tennis lessons, snorkeling trips and much more. You can find an overview of additional activities here
For the extensive spa menu please visit the following link.
Deluxe Ocean View King (perfect for single guest or couple):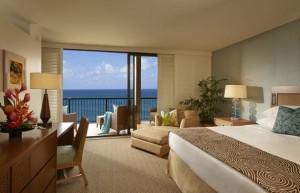 These recently renovated accommodations feature ocean views and offer 478 square feet (43 square meters) of living space. The guestrooms feature casual, yet trendy décor with subtle accents of island and Hawaiian motifs and enjoy a balcony and breathtaking panoramic ocean views. Enhancements include all new furnishings, bedding, and completely remodeled bathrooms that offer double vanities and walk-in showers.All room feature: Air conditioning, Cable TV, Tea / Coffee making facilities, daily housekeeping, free toiletries, hair dryer, iron /ironing board, in – room safe, pay movies, phone, fridge and 24 hour room Service.
Deluxe Ocean View Double, private balcony: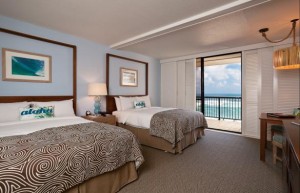 Perfect if you choose the shared accommodation option and you are coming by yourself, we will then pair you up with a roommate of the same gender and Age range OR for friends coming together and would like to share a room.
The rooms are furnished and equipped the same way as the Deluxe King Rooms and boast ocean views and all other amenities, but instead of one king size bed they have 2 queen size beds.
Junior Suite, Ocean View, private balcony (perfect for single guest or couple):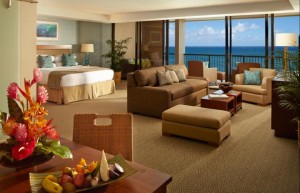 Relax and recharge in a 725 square foot serene, restful environment with chic neutral décor offset by vibrant splashes of our signature turquoise blue. The suite offers a dining table and comfortable sitting area with a pull out sleeper sofa. Imagine soaking in a deep tub while gazing through a peekaboo window at the tranquil ocean. A spacious bathroom includes a luxurious vanity and an oversized walk-in stone shower. Features a mini fridge and a Keurig coffee machine and all of the amenities the Deluxe rooms feature as well.
Beach Cottages, Ocean View, private balcony (perfect for single guest or couple):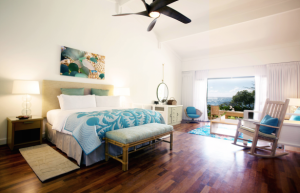 The most private and luxurious accommodation at the resort. Furnished lanai with ocean/beach views. 740–850 square feet. Designer furnishings, Brazilian-walnut floors, and 15-foot ceilings. Seating area with sofas and desk. Cottage concierge. Marble bathroom with deep soaking tub and separate shower. Complimentary wireless Internet access, compact refrigerator, minibar, CD player, and coffeemaker. Cable TV with HBO, pay movies, and video games (surcharge). Bathrobes and slippers.
What's included:
1 night accommodation at the **** Hilton Waikiki Village in Waikiki Beach
6 nights accommodation at the **** Turtle Bay Resort on Oahu's famous North Shore
6 * extensive breakfast / brunch buffet at the Turtle Bay Resort including daily fresh juices and smoothies
3 * dinner at the Turtle Bay Resort including fresh fish and meat options, vegetarian and vegan meal options
Daily Bikram Yoga classes and / or posture clinics, advanced classes in a heated room with guided instruction
mats and towels for each class
Half day trip to famous Waimea Beach and it's valley with botanical garden and waterfalls (Admission and Transport included)
Beach excursions
Transfer from the Airport to the Hilton Waikiki Village Hotel on the day of the Arrival of the Retreat
Transfer from the Turtle Bay Resort to the Airport on the day of the departure of the Retreat
Transfer from the Hilton Waikiki Village to the Turtle Bay Resort on the Sunday
all Transfers to any activities / yoga Studios / beaches which are included in our program for the week
What's not included:
any additional tours, activities, spa programs, meals , Drinks, room Service outside of the above.
on 4 nights you will have the Option to go to a Restaurant or venue of your choice or join us at the communal dinner.
Resort fees + taxes: both hotels charge an additional 35 USD / night of resort fees; this is typical in Hawaii and includes the use of WIFI, cable TV, hotel grounds (pools, waterslides), newspaper service, safe use etc. It is payable per guest (not per room) directly upon arrival to the hotel directly
Prices:
Deluxe Ocean View King 
Single:  3650  USD  per Person
Shared (couple):  2650  USD  per Person
Deluxe Ocean View Double
Shared accommodation:  2650 USD per Person
(2 Queen size beds – this is the option to choose if you are travelling by yourself and would like to share a room with another guest. We will only pair you with a participant of the same gender and age range)
Junior Suite: please contact us for prices directly!
Beach Cottage: please contact us for prices directly!
Please note:
International/national flights are NOT included in the price
Travel insurance is not included but highly recommended
An initial $1500 USD deposit is required to secure your place at the retreat
The remaining amount is due no later than 70 days prior to the retreat start date
Payments can be made via PayPal/Credit Card or Transfer to our US bank account -Paypal fee is included in the above price
the Retreat is limited to 20 participants only!
Check in on the day of Arrival is at 3pm, if you arrive earlier that's no problem, we will arrange for Airport Transfers but you might not be able to check into your room yet.
Check out on the day of deaprture is 12pm.
Airport Transfers will only be arranged on the day of Arrival and the day of the departure of the Retreat. If you choose to stay longer or arrive earlier to Hawaii that's fine but you need to arrange for your own Transportation / Transfers to and from the Retreat Location.
Cancellation Policy:
Any cancellation will require an administrative fee of $150 USD
Up to 120 days prior to the retreat start date – the full amount paid will be refunded
Up to 70 days prior to the retreat start date – 40% of the full amount paid will be refunded
Up to 45 days prior to the retreat start date – 20% of the full amount paid will be refunded
After 45 days prior to the retreat start date – no refund applies
Refunds will be reimbursed within 30 days of notification to us
Are you ready to…

For any additional questions please email us directly at contact@hotbikramretreats.com