Bikram Yoga & Surf/Bootcamp Retreat & Jungle Experience
with Bikram Yoga teacher and Studio Director Derek Stout
Bocas del Toro, Panama
Sat, 19th July – Sat, 26th July  (8 days, 7 nights )
 with optional 2 nights add on jungle experience 26th-28th July – Jungle Experience
Welcome to Paradise –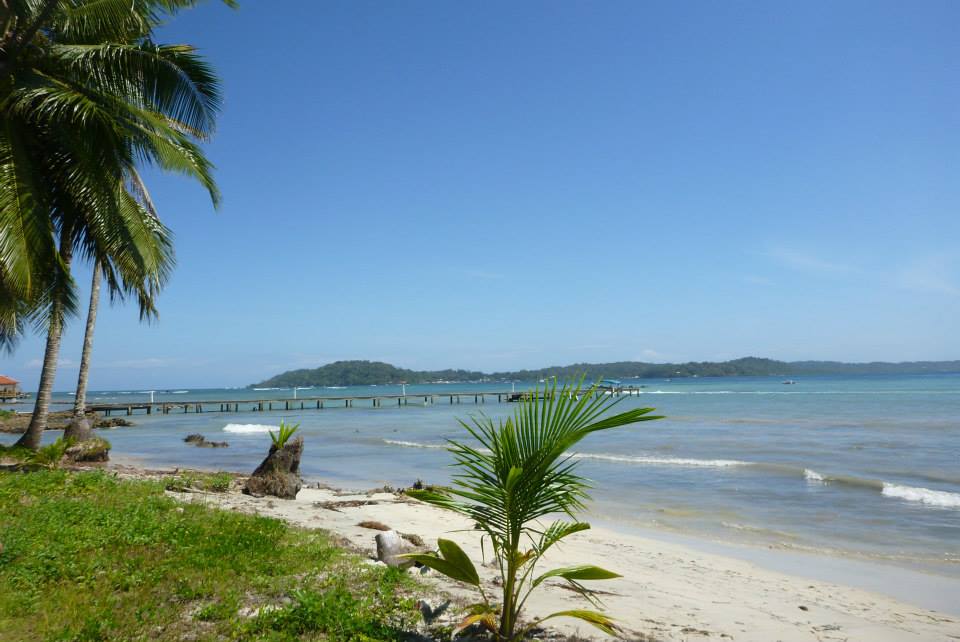 After the great success of our Retreat this January (check out the pictures here ).. Join us this July in the Caribbean islands of beautiful Bocas del Toro, Panama, for an unforgettable week of Yoga and Surfing and plenty more… with the options of a 2 night add on package to experience a stunning farm set in the jungle.
We first visited Bocas del Toro 12 years ago backpacking through Central America and were just fascinated by its location, beaches, food, people and relaxed lifestyle. There is so much to Bocas words can't even explain.. You have to see for yourself. And since 12 years …not much has changed in Bocas. It's still the same beautiful place and we just love it. Have a look for yourself.
Experience morning surfing classes with the local Mono Loco Surf School and afternoon Yoga in a beautiful studio overlooking the ocean.
In case you don't want to join the surfing classes and don't feel that comfortable in water that's no problem – instead our private instructor will make you sweat in daily morning Fitness Bootcamp classes!
Enjoy a day trip to the beautiful islands and watch dolphins, snorkel or just enjoy  local Carribbean food. Our own private chef will prepare delicious dishes comprising a combination of (mainly ) locally sourced ingredients including fish, meat, raw and vegan options. We  look forward to welcoming again people from all around the world in beautiful Bocas, where one of our owners just recently even moved to as she loves the place so much 🙂
What's included
7 nights accommodation in either single or double occupancy at  Hotel Tierra Verde on Carenero Island set right on the water (all rooms are equipped with  Aircon, TV and Wifi ) – single accomodation is limited!
2 delicious meals a day (brunch and dinner) – choice of vegetarian, vegan, raw, fish and/or meat – including a BBQ night; one night dinner not included at a local restaurant.
Daily Bikram Yoga classes in a pavilion overlooking the ocean
5 days of surfing (2-3 hours each day) in cooperation with Mono Loco Surf School, the only BSA/ISA qualified school in Bocas, or daily Fitness Bootcamp classes instead.
Day trip to Dolphin Bay, Red Frog Beach – snorkel , swim, relax and discover the stunning islands of Bocas del Toro
Cocktail sunset night!
Return transfers from Bocas del Toro airport
Enough time to relax…. and lots of fun… guaranteed!
Example of a day at the retreat:
| | |
| --- | --- |
| 8.00 am | Morning Tea/Coffee |
| 8.30 am – 10.00am | Morning Surf Class |
| 10.00am -11.30am | Brunch |
| 11.30am-4.00pm | Free time |
| 4.00pm – 5.30pm | Yoga – Class |
| 5.30pm – 7.00pm | Free time |
| 7.00pm – 9.00pm | Dinner |
Prices
$ 1395 USD for double/shared occupancy
$ 2395 USD for single occupancy
All of our Retreats are open to ALL levels – whether you are new to Yoga or new to surfing – and please note, you don't have to take part in all the Yoga and/or Surf classes – it's all up to you. Do as much or as little as you like! It's YOUR holiday!
How to get there:
Bocas del Toro is easy to reach by plane, bus and/or boat. The fastest way is by plane, which takes about 1 hour each way from Panama City or San Jose (Costa Rica). Please check www.airpanama.com (they have several flights a day to Bocas). If you are arriving from Costa Rica please check www.natureair.com for flights. We are also happy to book flights for you. No problem ! If you plan to travel by bus/boat please note that the trip varies in time and takes anywhere between 7-10 hours. We can arrange that for you as well. Please contact us !
Please note:
International/national flights to Bocas del Toro are NOT included in the price
Travel insurance is not included but we highly recommend you get it
An initial USD $1000 deposit is required to secure your place at our retreat
The remaining amount is due no later than 60 days prior to the retreat start date
Payments can be made via PayPal/Credit Card. Please note a 5% surcharge will incur.
Cancellation Policy:
Any cancellation will require an administrative fee of $50 USD
Up to 60 days prior to the retreat start date – the full amount paid will be refunded
Up to 45 days prior to the retreat start date – 50% of the full amount paid will be refunded
Up to 30 days prior to the retreat start date – 25% of the full amount paid will be refunded
After 30 days prior to the retreat start date – no refund applies
Are you ready to lock your knees in paradise? Then…
Book Now  For any additional questions please email us directly at