Karmen Gui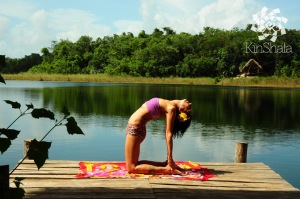 For Karmen, Yoga is as necessary as showering or brushing teeth. Yoga is everything: hygiene, preventive medicine and health. The beauty and magic of yoga is that anyone can do at any age and in any condition of the physical body.
It will enhance and give more energy to your life.  These are the reasons why she does yoga every day, why she teaches and has such a passion to spread this miraculous practice. Karmen is  from NYC and  was instantly hooked after she took one class from her dear friend and amazing Bikram teacher Pamela Heron.  Since then, 2007, she have been practicing regularly and teaching for four years, in San Diego, NYC, Latvia and currently Mexico.
Karmen also loves dancing, singing, diving and enjoying the company of  friends and family!
Karmen has been teaching at our Retreats in Puerto Morelos (Cancun)  and we love her energy and passion for the Yoga in the Hot room. We also love the fact that she can teach in both english and spanish to mix it up a bit.