Hot Yoga Retreat – Ibiza (Spain) May 2020
Sunday, May 3rd – Saturday, May 9th (7 days/ 6 nights) 2020
We are super excited to be back in Ibiza in May 2020. Swim in the crystal clear waters of the ocean, get sweaty during our classes and workshops, enjoy a cocktail while taking in the stunning sunsets or simply relax at the pool or garden of our stylish beachfront 4* hotel. Ibiza we are back and we can't wait.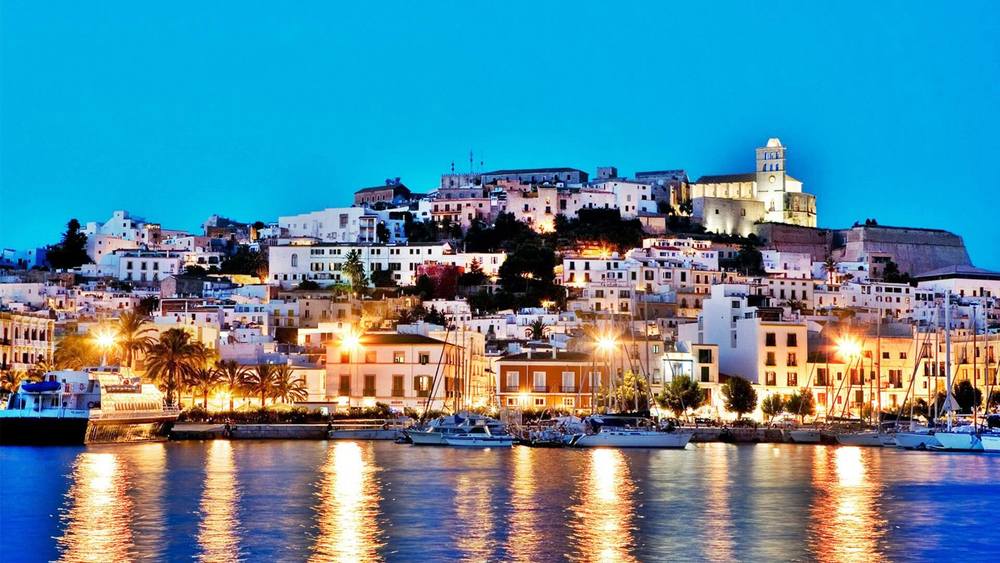 Ibiza old town – a 10 min. walk from our hotel
About Ibiza:
Ibiza is one of the Balearic Islands , an archipelago of Spain in the Mediterranean Sea. It is THE absolute European hotspot to visit and one of the most beautiful islands in the med. It boasts something for everyone; stunning beaches, world famous nightlife, amazing cuisine and lovely secluded villages and ports. You can do beautiful hikes here or rent bikes to discover the island, do a sailing trip for the day, a trip to close by Formentera island or simply enjoy the beautiful sunsets in one of the famous beach bars. Ibiza is very easy to get to from all major European cities, also most budget airlines such as Ryanair, Easy jet, Transavia, Air Berlin, Norwegian Air, Monarch and Iberia fly here several times a week or day just to name a few. If you need assistance with your travels please let us know.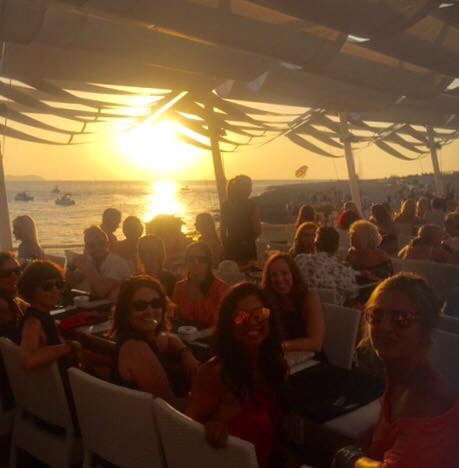 With our retreat group enjoying sunset cocktails at the stylish Cafe Del Mar
The Hotel:
The Hotel Nautico Ebeso **** is centrally located in Ibiza and offers excellent viewsof Ibiza Bay from its beachfront setting in Figueretes. It features an outdoor swimming pool and rooms with balconies. Each of its air-conditioned rooms has flat-screen satellite TV and a fully equipped bathroom.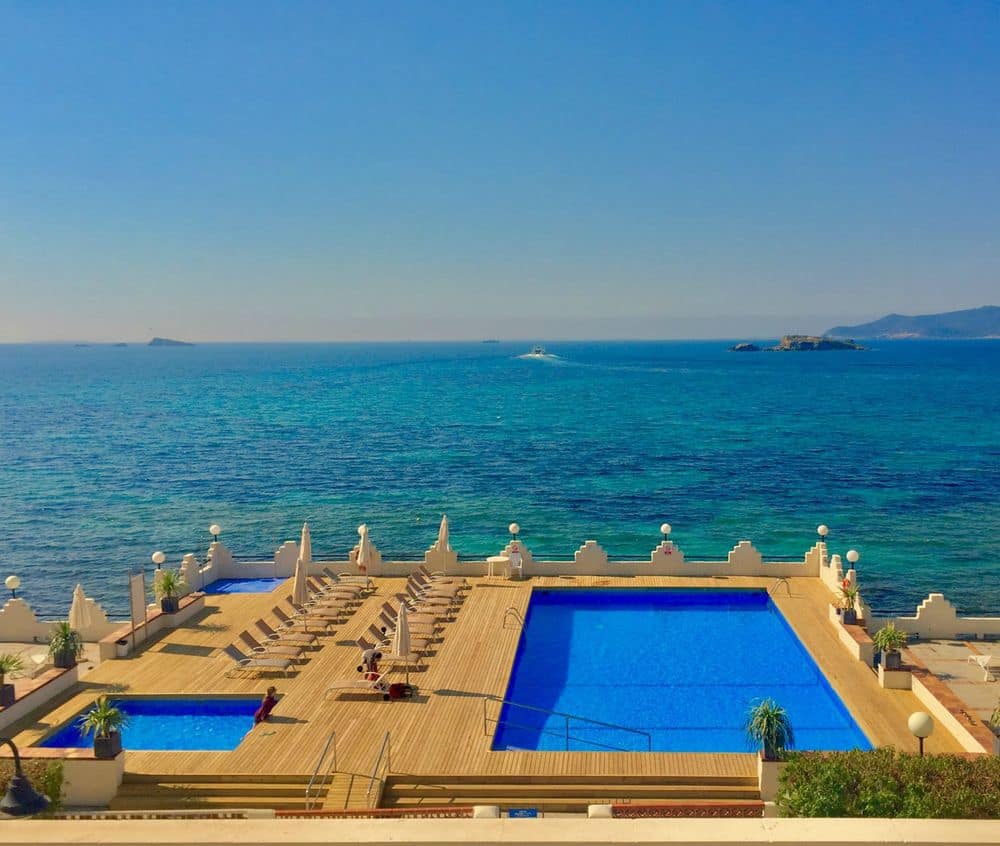 The pool at our hotel overlooking the bay of Ibiza and the island of Formentera
The Nautico's buffet restaurant serves a selection of international cuisine and also has show cooking. Guests can enjoy a snack on the poolside terrace, which offers views of the Mediterranean Sea and Formentera. The hotel also boasts a spa which overlooks the sea. Here, you can find a sauna and fitness center. The center of Ibiza Town is a short 10-minute walk from the Nautico. Regular ferries to Formentera and the other Balearic islands depart from the town's port, just over half a mile away. The heated yoga studio where we will practice our classes is also only a short 10 /15 min.walk away. The stylish ambiance of this hotel, the proximity to both the town, yoga studio and its absolute beachfront location will guarantee a retreat week of a lifetime.
Rooms:
All rooms feature air conditioning, heating and ceiling fan, minibar, LCD TV, direct telephone, safe, laundry, free WIFI, bathroom with hairdryer , mirror and amenities. Deluxe rooms feature sea view and a balcony. Rooms do either have 2 twin beds for sharing or a queen size bed.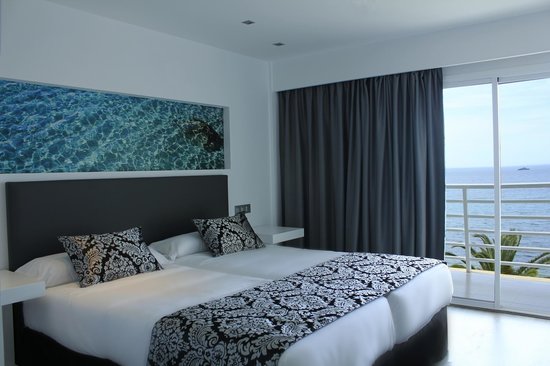 example hotel room
The week:
We have planned a fantastic week with plenty of yoga, workshops, time to relax, great restaurants and more. Daily Hot Yoga classes in the morning are combined with classes in the afternoon and workshops/ posture clinics. All Hot Yoga classes will be taken at the stylish Hot Yoga Ibiza studio, complete with mirrors and heaters. The studio is a short 5-10 min. walk from our hotel. You will leave the week feeling toned, healthy and rejuvenated while even enjoying some cocktails if you wish.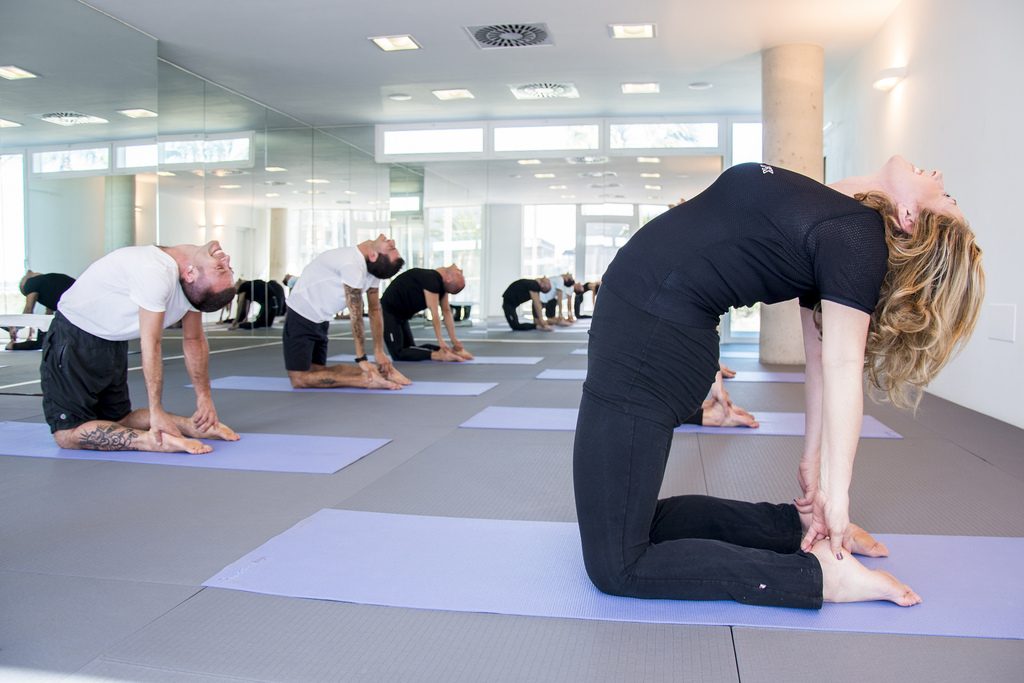 Our room for the week, the stylish HOT YOGA Ibiza studio
A typical day at the retreat will look like this:
8.00am – 9.30am Morning Hot Yoga Class
10.30am- 11.30am: Breakfast
11.30am- 3.00pm: Free time (enjoy the beach, relax by the pool, book a massage or go for a hike)
3.30pm- 4.30pm: Afternoon Workshop
5.00pm – 6.00pm: Evening Hot Yoga class
7.00pm – 8.00pm: Dinner
All our classes are designed for all levels and taught by only certified instructors. We also encourage all guests to do as much or as little as they like on our retreats. We offer a lot of classes during the week so you can choose the ones you like most. Rarely does every guest take part in all classes and that's absolutely fine (some do however and that's great too ! ) It's your holiday, do as much or as little as you like.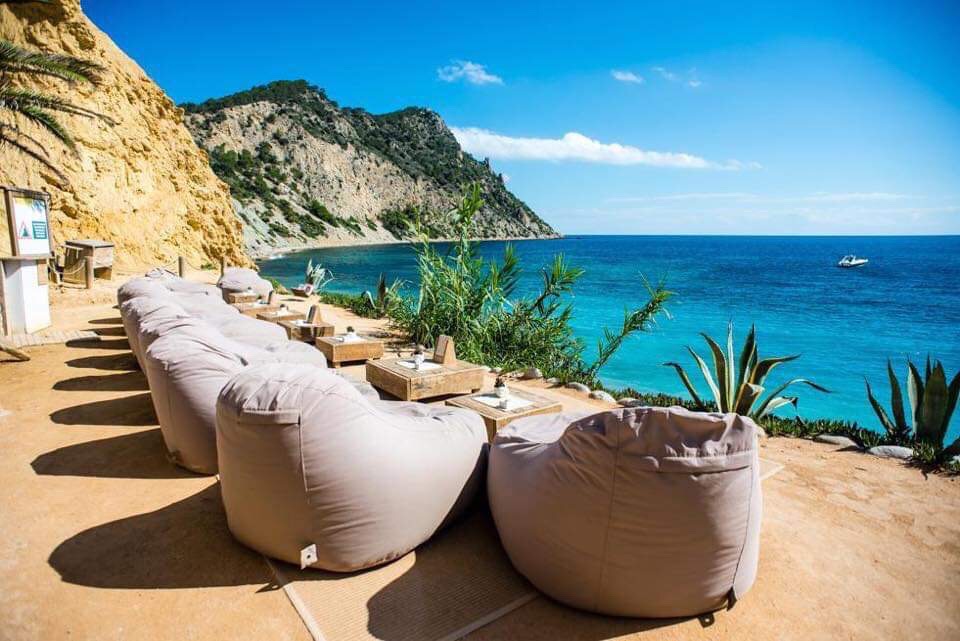 Stunning beach bar which we will visit
What's included:
– 7 days / 6 nights luxury accommodation of your choice in either a shared room or single room with or without ocean view (see room descriptions above)
– all daily hot yoga classes, workshops and posture clinics (we offer a minimum of 2 classes a day – free of course to attend for anyone)
– 6 * breakfast
– 4* delicious dinner
– Additional classes taught by certified instructors
– Return airport transfer from Ibiza Airport directly to the hotel on the day of the arrival of the retreat and day of departure (outside of those days transfer is 40 EUR one way to the hotel)
– half day trip to visit a local village, market and beach
– Yoga mats and towels
– Sunset Cocktail night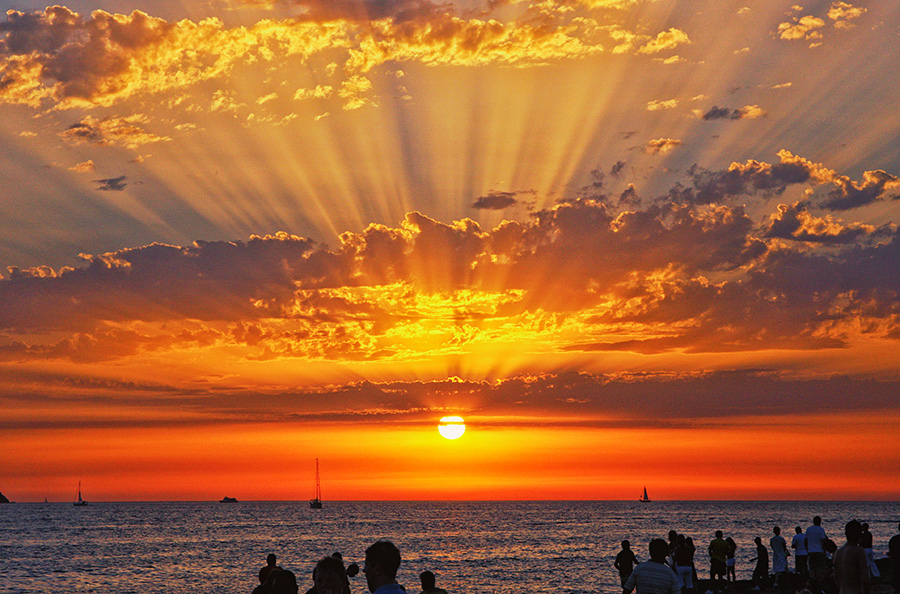 Famous Ibiza sunsets you will never forget
Prices:
– Shared accommodation (Twin beds): 1750 EUROS = Approx. 1932 USD (check – www.xe.com for exchange rates) – if you are traveling by yourself and sign up for this room category we will match you with a roommate of the same age range and gender)
– Single accommodation (Queen size bed): 2150 EUROS = Approx. 2385 USD (check – www.xe.com for exchange rates)
UPGRADE SEA VIEW: 180 EUROS on each room category for the week – we highly recommend the upgrade, what better way then to wake up to sea views every day !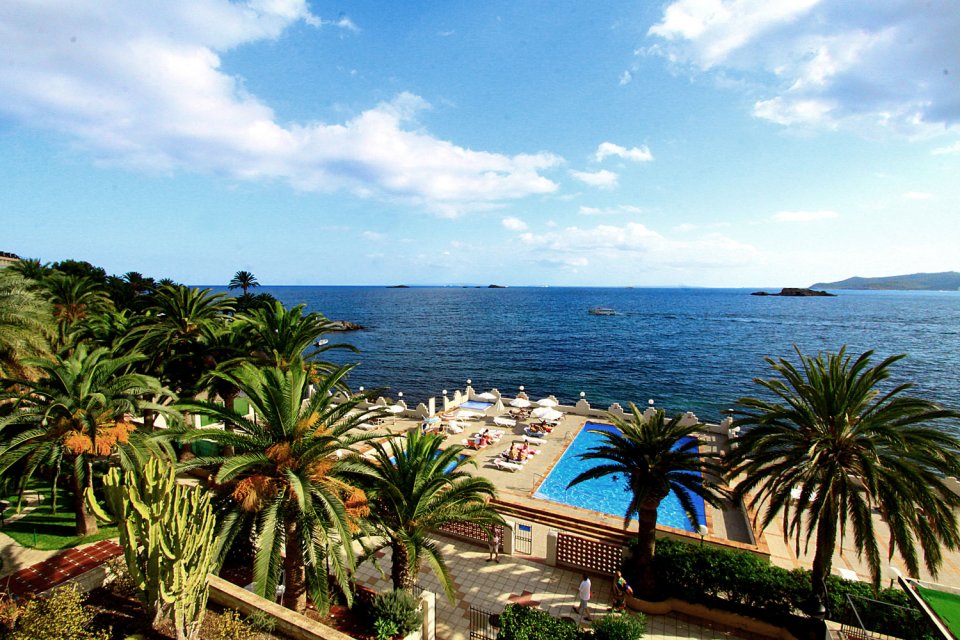 View from the hotel rooms (example)
Please note :
– International/national flights are NOT included in the price
– Travel insurance is not included but highly recommended
– An initial 1000 EURO deposit is required to secure your place at the retreat
– There is a 5% discount if the whole amount is paid up front
– The remaining amount is due no later than 70 days prior to the retreat start date
– the Retreat is limited to 18 participants only!
Cancellation Policy
– Any cancellation will require an administrative fee of $150 USD
– Up to 120 days prior to the retreat start date – the full amount paid will be refunded
– Up to 70 days prior to the retreat start date – 40% of the full amount paid will be refunded
– After 70 days prior to the retreat start date – no refund applies
– Refunds will be reimbursed within 30 days of notification to us
Are you ready to…