Bikram Yoga and Fitness Retreat – Ibiza, Spain – July 2017
Sunday, 9th – Saturday, 15th July 2017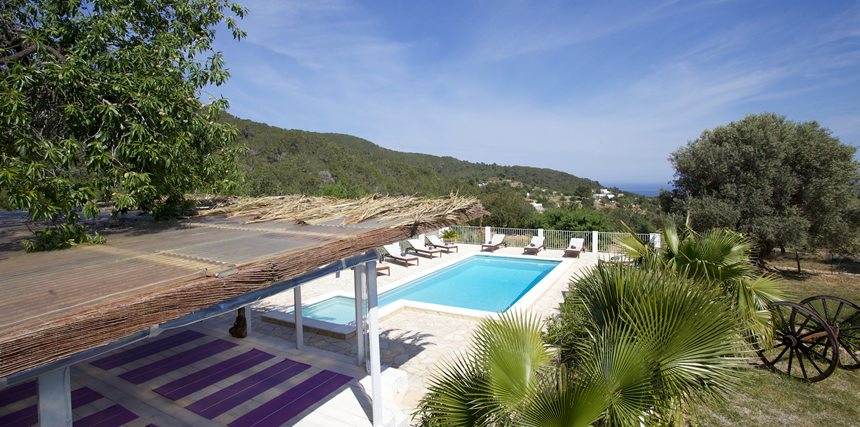 Yoga deck with pool
This summer 2017, come join us at the beautiful island of Ibiza, Spain for a 7 days / 6 nights retreat of a lifetime with Bikram Yoga teacher, studio owner (Bikram Yoga Dublin City Centre) and Super Yogi Fiona McNamara. Set in the north of Ibiza, our own private villa with amazing sea views is secluded and guarantees the privacy needed for a week of complete relaxation, Yoga and Fitness workouts combined with excellent food, wine and more.
Only 25 minutes drive from Ibiza International Airport and 15 minutes drive from Ibiza town – the world's most looked after world Unesco Heritage site (which we will visit as well) – the Villa is situated in the hills overlooking the ocean, yet only a short 2 km (20 min) walk to the beach.
About Ibiza:
Ibiza is one of the Balearic Islands , an archipelago of Spain in the Mediterranean Sea. It is an absolute Summer hotspot and one of the most beautiful islands to visit in Europe, especially during summer. It boasts something for everyone; stunning beaches, world famous nightlife, amazing cuisine and lovely secluded villages and ports. You can do beautiful hikes here or rent bikes to discover the island, do a sailing trip for the day or simply enjoy the beautiful sunsets in one of the famous beach bars. Ibiza is very easy to get to from all major European cities, also most budget airlines such as Ryanair, Easy jet, Transavia, Air Berlin, Norwegian Air, Monarch and Iberia fly here. Because it is absolute high season in July / August, we suggest to book tickets as soon as possible to avoid the high fees for last minute bookings. If you can't find the right flight connection please contact us, we are happy to assist you.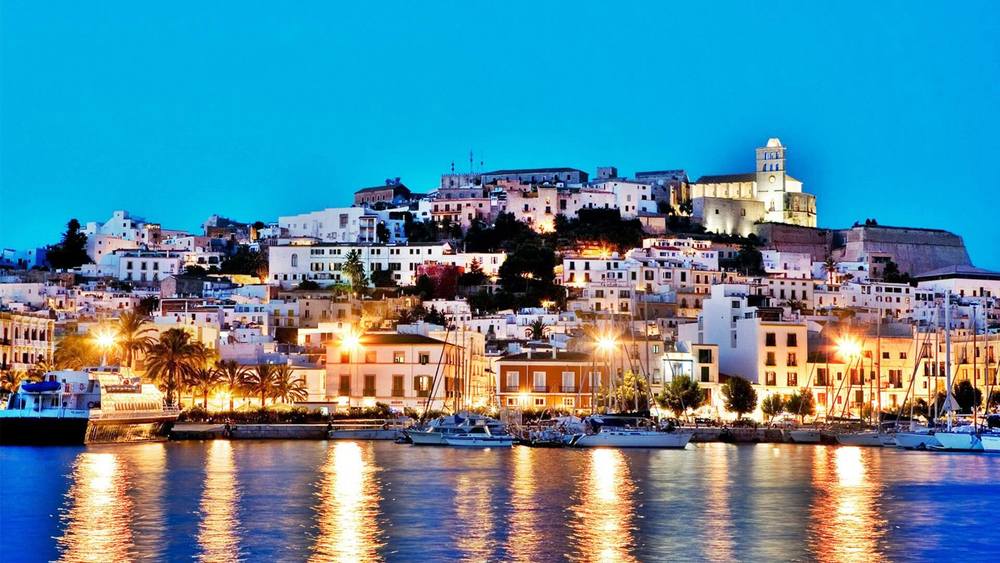 Ibiza town which we will discover on a visit
Weather:
It is hot in Ibiza during the summer months with an average of 25 – 35 C, (80 – 100 F), average days with rain are 1- 2 per months for July so no need for umbrellas – pack your beach and yoga outfits and get ready for THE European Summer Hotspot.
The week:
We have planned a fantastic week with plenty of workouts. Daily Bikram Yoga classes in the morning are combined with Fitness / Bootcamp classes in the afternoon and stretching / yoga in the evening. Get your body in shape during our tailored workouts – arms, legs, core or bum. Learn about Yoga postures during our workshops. You will leave the week feeling toned, healthy and rejuvenated. A typical day at the retreat will look like this:
7.30am – 8.00am: Morning Coffee and tea
8.30am – 10.00am: Morning Yoga Class
10.30am- 11.30am: Brunch
11.30am- 3.00pm: Free time (enjoy the beach, relax by the pool, book a massage or go for a hike)
3.30pm- 4.30pm: Afternoon Bootcamp workout or Circuit Training
5.00pm – 6.00pm: Afternoon Pilates or Yoga or Stretching session
7.00pm – 8.00pm: Dinner
All our classes are designed for all levels and taught by only certified instructors. Don't worry if you haven't been practicing yoga for a while or never went to a fitness class, exercises are adapted to match your level of fitness. We also encourage all guests to do as much or as little as they like on our retreats. We offer a lot of classes during the week so you can choose the ones you like most. Rarely does every guest take part in all classes and that's absolutely fine (some do however and that's great too ?) It's your holiday, do as much or as little as you like.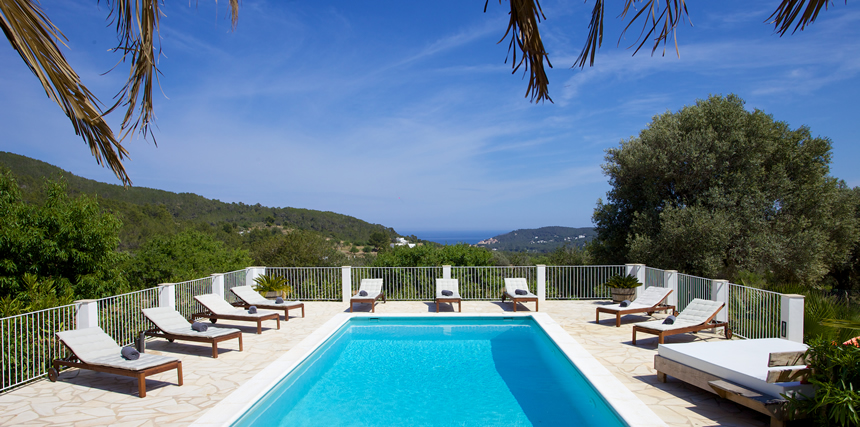 Our private pool
The Villa:
Set on 20 acres ( 80000 sqm) of private land the luxurious Can Dream Villa Ibiza will be our location for this ultimate summer retreat. It boasts 9 rooms (a mixture of shared accommodation options with twin beds and rooms with queen size beds), en suite bathrooms, a private pool with beautiful sea views, fully equipped yoga deck with a waterproof balinese style roof, fully equipped kitchen and dining area, media room, air conditioning/ fans, central heating (which we won't need in the summer), WIFI, bbq area, outdoor Moroccan snug and welcome lounge with big comfy sofas and lamps. The villa will accommodate a maximum of 16 guests.
Villa outdoor area
The meals:
Our private chef Justin has lived on Ibiza for years and caters especially for yoga retreats. As such all meals are freshly prepared, healthy and delicious with an emphasis on organic and locally sourced ingredients.
We will have a large brunch every morning consisting of the following : breads and spreads, fresh fruits, bio cereal selection, cinnamon soaked oats, cheese selection, kefir, boiled / poached or baked eggs, fresh orange juice and coffee & tea. On top of that one superfood dish is included every day for brunch (examples : Quinoa with banana and blueberry and almond milk, Spinach and hemp protein pancakes with kiwi, Chia pots with banana, bee pollen and honey), as well as one savory dish (examples : Asparagus soft cheese and mint frittata, mashed avocado toasties with wilted spinach, Eggs Benedict on whole meal toast with smoked salmon, baked eggs in pitta with hummus) and also one smoothie daily.
Dinners are delicious and healthy, examples of the dishes cooked are;
– Baked Aubergine with goat cheese, quinoa tabouleh, garlic hummus, cucumber with pumpkin seeds
– Chickpea and mushroom curry, roasted cauliflower with pomegranate, homemade flat brad, wild rice with okra
– Shallot and wild mushroom tart with salad
There is also a selection of fresh caught fish on a couple of nights and freshly prepared soups. Justin will also cater for most dietary requirements and make customized meals should you require this as part of your diet. There will be a surcharge – please enquire directly with us.
Please note :
Beer and Wine will be available to purchase directly at the villa. Dinner is included for 4 nights, during the nights where no dinner is made feel free to join us at one of the fantastic restaurants Ibiza has to offer, prices for meals are around 15-25 euros. Or feel free to explore Ibiza on your own.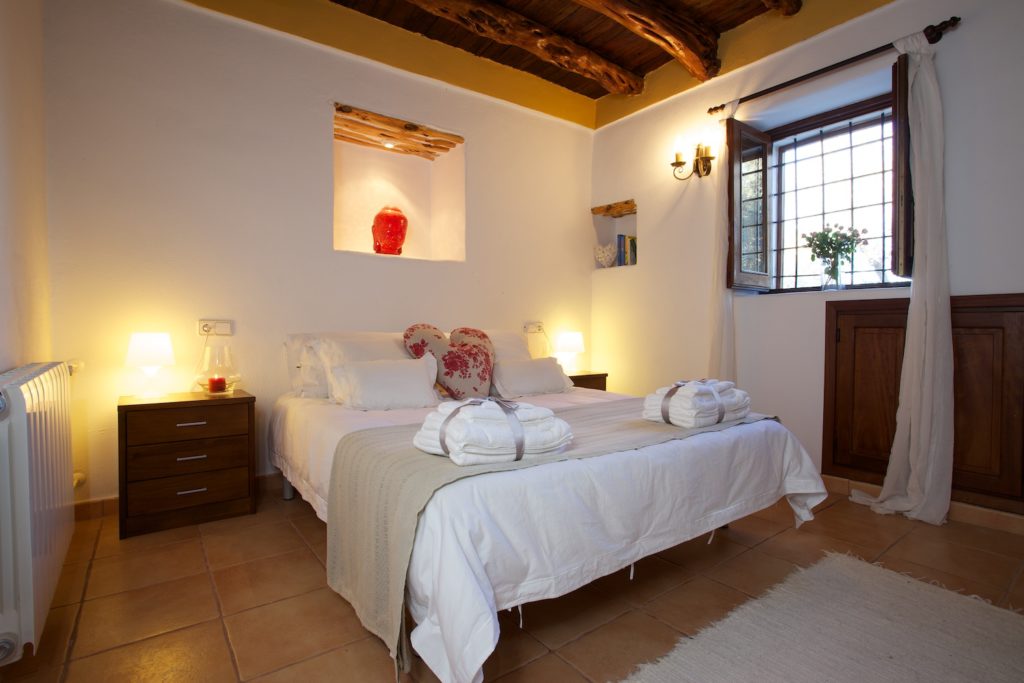 Example of two rooms at the Villa with Aircon, Heating and en suite bathroom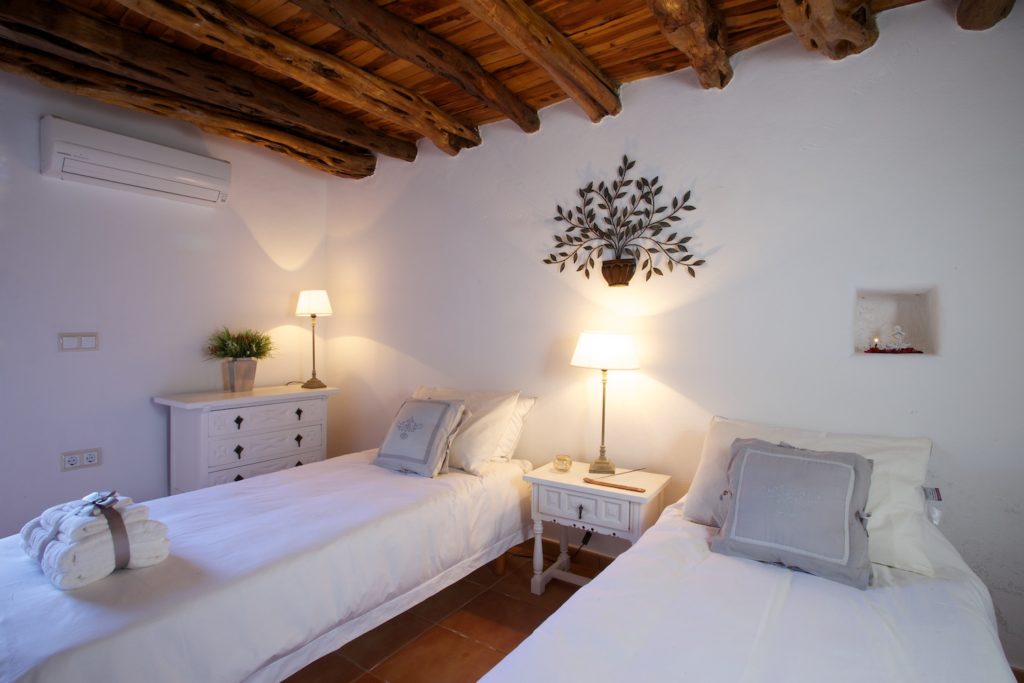 Activities and Massages: We can arrange for Spa treatments, Manicure, Pedicures, Massages, Facials and more in the private setting of your room or at the pool area. Extra activities that can be booked include : bike rental, snorkel trip, sailing tour, hiking session, reiki healing sessions, private yoga classes, cooking classes and horse riding. You can book all of the above once your arrive at the Villa.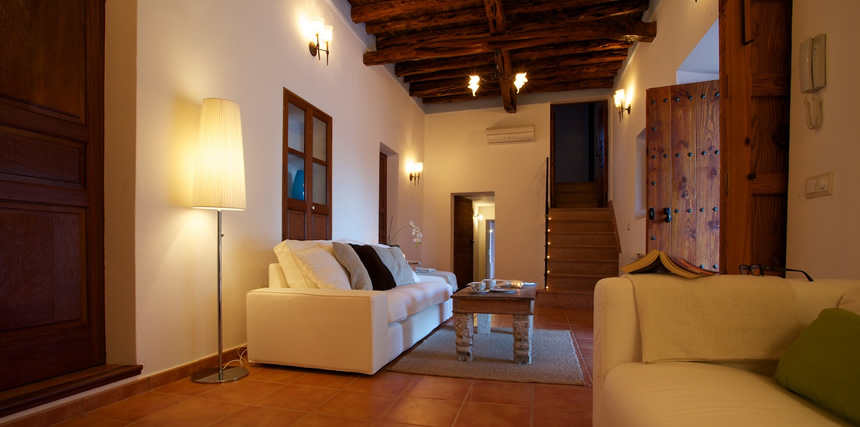 Villa interior
What's included:
7 days / 6 nights luxury accommodation of your choice in either a shared room or single room
WIFI
6 * extensive brunch
4 * delicious dinner
Daily Yoga and Fitness Program taught by certified instructors
Return airport transfer from Ibiza Airport directly to our Villa on the day of arrival and day of departure only, between 9am – 4pm, outside these times the transfer is 50 Euros one way per car.
Unlimited Drinking water
Yoga mats and towels
Shuttle to the beach every day
Trip to Unesco World Heritage site – Ibiza town
Sunset Cocktail night
Beach towels
PayPal fees
Prices:
– Shared accommodation (twin beds ) : 1950 EUROS = approx. 1990 USD
– Single accommodation ( queen size bed): 2540 EUROS = approx. 2655 USD (www.xe.com)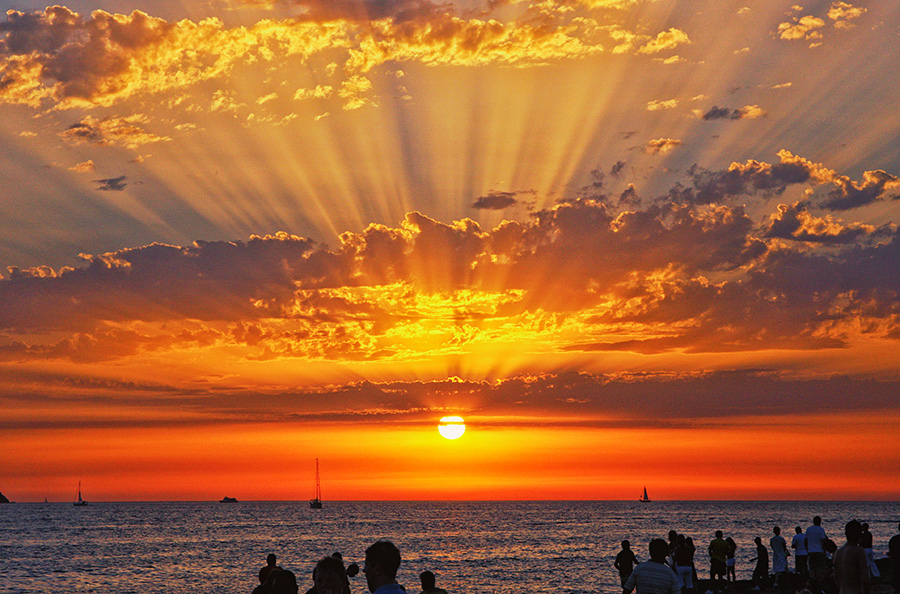 Sunset San Antonio – we will be there
Please note :
– International/national flights are NOT included in the price
– Travel insurance is not included but highly recommended
– An initial $1200 USD deposit is required to secure your place at the retreat
– The remaining amount is due no later than 70 days prior to the retreat start date
– Payments can be made via PayPal/Credit Card -Paypal fee is included in the above price
– single accommodation is limited for this Retreat, there are only 3 rooms available!
– the Retreat is limited to 18 participants only!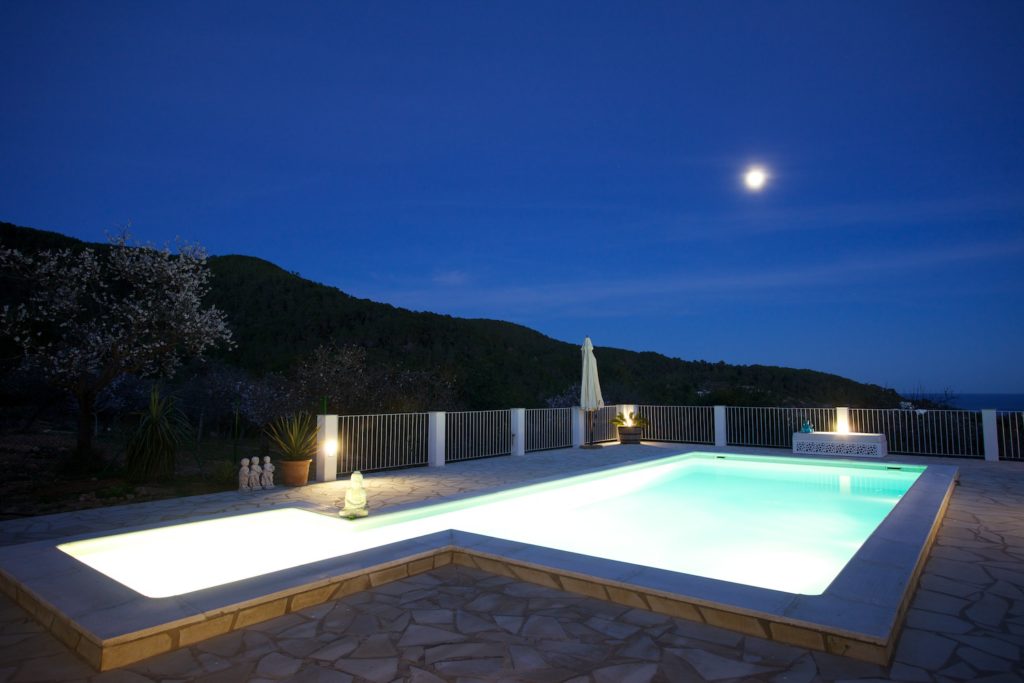 The Villa at night
Cancellation Policy
Any cancellation will require an administrative fee of $150 USD
Up to 120 days prior to the retreat start date – the full amount paid will be refunded
Up to 70 days prior to the retreat start date – 40% of the full amount paid will be refunded
Up to 45 days prior to the retreat start date – 20% of the full amount paid will be refunded
After 45 days prior to the retreat start date – no refund applies
Refunds will be reimbursed within 30 days of notification to us
Are you ready to…