Naomi Clark
Our Bikram Yoga Veteran & Rawfoods Guru Deluxe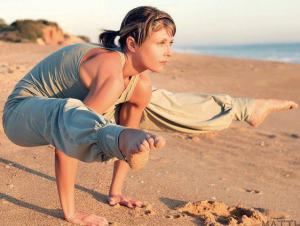 Naomi Clark began practising Iyengar and Hatha Yoga in 1998, but it wasn't until her first Bikram Hot Yoga class a couple of years later that she recognised the benefit it had on the knee pain she had suffered after a car accident. Having found a practical way to manage the demands of everyday life whilst restoring physical health, Naomi trained to be a devotee and teacher of Bikram Yoga in 2001, and has since brought the benefits of Bikram Yoga to over 10,000 students.
Over the years, Naomi has taught and advocated the benefits of Bikram all over the world, from California, Colorado, Hawaii, and Jamaica, to Ibiza, London, and Brighton before opening the first Bikram Hot Yoga Studio outside of London in 2003.
Bringing Bikram Yoga to Brighton upon Bikram's request in 2002 and mentoring most of Brighton's Senior Bikram/Hot yoga teachers has brought Naomi much satisfaction and joy, but after 6 years and 10,000 students, she was ready to move on from studio management and pursue new ways of self-enquiry.
Having studied with the BioMedical Trust in 2008, she qualified in Yoga Therapy and the restorative tool of Yoga Nidra (Yogic Sleep) unfolded, inspiring a regular practice and teaching, and an interest in Vipassana, which Naomi is currently studying.
She has been a Judge for the National Yoga Asana Competition 3 years running and currently coaches UK competitors.
As an advocate of the benefits of a healthy lifestyle, moving onto a raw diet in 2012 became a major life enhancer for Naomi. Having been interested in the link between food and mood for many years, Naomi has embraced optimal health and vitality through a raw wholefoods diet and clean living as is humanely possible. She is enthusiastic about sharing the benefits of a raw lifestyle with others.